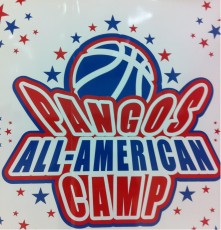 LOS ANGELES - Just a week after the Nike EYBL, Los Angeles got another taste of some of the nation's top high school basketball prospects during the Pango's All American Camp. In comparison to last weekend there wasn't the same depth of Duke prospects, but this was still a field with a lot of talent that caught our eye. The destination this weekend for BDN Premium? Cal State Dominguez Hills located right on the border of Compton/Carson, CA.
The camp kicked off with former New Orleans Hornets assistant and current ESPN radio personality Dave Miller teaching the campers some defensive fundamentals. The best way to describe Dave is loud and in charge. The former NBA assistant used his great personality to get the attention of the campers and explain to them the real world of high school, college, and pro hoops.
Some of the big time names at the camp were: Isaiah Austin, Andre Drummond, Shabazz and Rasheed Muhammad, and Anthony Bennett.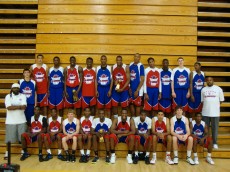 The name who likely helped his stock the most this weekend was  2012 forward Anthony Bennett, a 6'7 230 lbs tank.  Bennett threw down countless thunderous dunks and ran the court extremely well. While speaking to him last weekend he mentioned the staff [private] at Findlay Prep was really working his outside game, and it is certainly paying off. The big man showed an impressive outside touch knocking down numerous three point shots keeping the defense very honest. Findlay coach Mike Peck was in attendance and was sure to be proud of Bennett.
This was my second chance seeing Isaiah Austin, the last time being at last year's Pangos camp. Austin looks to have put on a bit of weight as his arms look thicker but still has a very wiry thin frame. The 7 footer got to match up with Andre Drummond in the very first game of the camp and was immediately put to the test. Drummond's powerful frame proved to be too much for him in the end but Austin did disrupt Drummond with his length a little bit. At this point Isaiah still tries to bring the ball up the court like a guard. His thin frame doesn't allow him to really bang down low like you would like most 7 footers to do. The potential is there with Isaiah but adding weight is an absolute must for the Baylor bound prospect.
Let's move on to 2012 big man Andre Drummond. For a long time scouts have touted him as the next big thing. It seems this weekend he came out to back up their statements. Drummond looked extremely motivated this weekend hustling up and down the court and attempting to grab any and every loose ball within his area code. The Connecticut prospect abused the rim and wooed the crowd with countless spectacular dunks, often making them look effortless. Sporting a college ready frame at 6'9 250 lbs it's plain to see why so many scouts ranked him so highly. At this point, the big man has minimal to not shooting touch, a skill he would be wise to eventually add. I do not mean adding a three point shot, but simply a 10-15 footer to add a new dimension to his game. His free throw shooting also leaves much to be desired as I could have counted the number of free throw makes on one hand, despite countless trips to the line. Still, it is very easy to see how talented and athletic Drummond is, and is sure to be a future pro, though I'm not doing much more than stating the obvious.
No single player plays with more consistent intensity than Shabazz Muhammad. The 6'5 Las Vegas lefty scored in every way imaginable this weekend while bringing in camp MVP. Given his constant effort it was a simple choice to give him the award. Shabazz flew around all over the court and attacked the rim like with a ferocity that makes you think, "what did that poor rim ever do to you?" While not an incredible outside shooter, Shabazz showed enough that you must at least respect it to a certain degree. Not to say he doesn't defend, but if that intensity ever fully carries over to the defensive side, watch out.  There isn't much more to say about Muhammad that hasn't been said. He is easily in my opinion the best prospect in 2012.
Recently a name that has popped up on Duke's radar has been Brannen Greene, a 6'6 shooter out of Forsyth, Georgia. This was my first chance seeing the forward and his performance unfortunately was disappointing to say the least. Often times when a shooters shot isn't dropping you'd like to see him be productive in other ways. This wasn't exactly the case with Brannen. There wasn't always effort on both sides of the court and at times seemed a bit unenthusiastic. He doesn't seem to be possess a high level of athleticism at this point and often got his shot blocked when he tried to put the ball on the floor. Hopefully for his sake this was simply a bad weekend and he can move on from it and get better.
I have to give credit to BDN Recruiting Analyst Andrew Slater for the next player, 2013 guard/forward Stephen Domingo out of San Francisco, CA. Before the camp started he had mentioned that Stephen should be a player of interest to watch and boy did he not disappoint. Currently sporting a very skinny frame the 6'6 (though I must say he is likely a bit shorter than this listing by an inch) prospect lit it up during the Top 25 game this weekend where he took home MVP of the match. Despite his slender body Stephen had no problem mixing it up a little bit. He's not Shaquille O'Neal by any means, but it was a joy to watch him try to grab rebounds and block a few shots. One particular impressive play, Stephen grabbed a rebound, turned around, looked ahead, and fired off a pin point outlet pass leading to an easy bucket for his team; an impressive play for the young prospect. Domingo showed off a very solid three point shot as well as some mid range game, particularly using the pull up jumper. I think it's safe to say that the scouts will be paying a lot more attention to the St. Ignatius product. [/private]