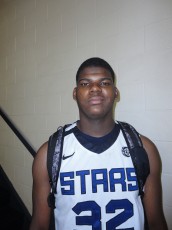 When it comes to big physical big men in the 2012 high school recruiting class, not many are bigger and stronger than Georgia big man Tony Parker. Parker has long been on the Blue Devils wish list for 2012 recruits to try and get that bruising cog to man the middle. Parker, who stands 6'9 and 260lbs, has had the Blue Devils high on his list for as long as many remember. However, many Duke fans are struggling to fully emerge themselves into the twisting and turning of Parker's recruitment. In recent interviews Tony hasn't exactly made glowing comments about Duke, but they haven't been comments that fans would like to hear. The Duke brass has showed Tony plenty of film on former Blue Devils Elton Brand, Carlos Boozer, and Shelden Williams to display their use of big men and what they can achieve when they commit to play for the storied program. Whether the perception of Duke being a guard school is right or wrong, the Blue Devils have to consistently combat that view to land that low post bruiser that fans have long been clamoring for. BDN got a chance to briefly speak with the highly touted big man and get some of his thoughts.
BDN: How was it playing against the pro's in the Elite 24?
TP: It was good. It was fun. But you know we play against pro's back home in Atlanta, they're local pro's, but playing against pro's from all over was cool. You know they had top draft picks, it was fun.
BDN: Most difficult aspect?
TP: It was just, you know, their moves are so quick and they're real controlled. It's just really playing defense. It's not about scoring, everybody out here can score, it's just playing defense.
BDN: What's [private] their advantage that puts them where they are?
TP: Obviously you know their bodies, the way they play and how strong they are. How quick they are on their feet, it's a real big difference.
BDN: How does it feel to be selected to the Elite 24?
TP: You know it's a great experience to be selected to the Elite 24. I'm really happy for me and my family to be able to watch me on TV and everybody just coming out to support us is real cool.
BDN: Did you have a toughest opponent you played against?
TP: Probably Derrick Williams.
BDN: What official visits will you be taking soon?
TP: I should be taking one on September 9th to Ohio State, October 15th to probably either Georgetown or Memphis.
BDN: Have you figured out a schedule yet for Duke?
TP: I haven't set that up yet but I'll probably set that up soon.
BDN: Some say you've cooled on Duke.  Is that the case for it seems you mention other schools more often these days.
TP:  Not really.  They've been in my top 3 from the start, so ...
BDN: Do you have a front runner?
TP: I mean, I like Memphis and Ohio State a lot, but they're all about equal right now.
BDN: What are you ultimately looking for when you make your decision?
TP: I'm just going to be looking for an all around good school, some place to play, some place where they have a good basketball atmosphere, and a great place to just have fun. A place that has good guys and good coaching.
BDN: What is important with concerns with a coach?
I just want somebody that has a good track record and gets along with his players.  I mean a lot of things will go into my decision but the coach is a big part of it.  I want somebody I can talk and relate to.
BDN: Are you waiting to see where other prospects go before deciding?
TP: No, not really.  I mean, it could have some bearing. [/private]