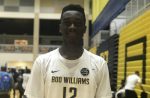 One of the nation's top center prospects has narrowed his list to three schools and Duke is one of them.  The Blue Devils join Michigan and UCLA as his finalists.
Williams, the brother of former Duke women's standout Elizabeth Williams is a 7'0 center who most recently transferred to IMG Academy in Florida for his senior season.
The key Duke prospect played on the Nike EYBL circuit this past summer where he suited up for Boo Williams out of Virginia.  Williams showed consistent improvement and impressed the Duke staff which was quick to offer.
Williams recently had this to say to Stockrisers about Duke, "Obviously, they're a legendary program with Coach K. They've been recruiting me hard, and they want to create a really special 2020 class. I feel like they do a good job of adjusting for their bigs to do what they do well from year to year."
Williams will visit Duke on October 26th.  He will visit Michigan this weekend and is expected in today.   For more on Williams, Duke basketball recruiting efforts and our take on how this one will play out, join Blue Devil Nation Premium during our one-year special.