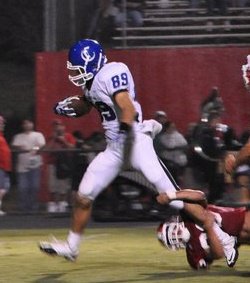 With Duke's prolific passing offense, solid tight end play, both in blocking and receiving, is crucial to success. After the graduation of senior TEs Cooper Helfet and Danny Parker, the Blue Devils are young on the tight end depth chart. That youth has the Duke staff working hard on the practice field this spring, but also on the recruiting trail. Among the impressive list of visitors this past weekend, Duke welcomed in one of the top sophomores in the state of North Carolina in TE Jeb Blazevich. Blazevich is a 6'5"  235 pound prospect out of Charlotte Christian school in Charlotte. The Blue Devils have recruited well in the western part of the state in recent years, securing commitments from players like Charlotte Christian alumni Kelby and Kyler Brown. Duke is hoping to continue that success with Blazevich, one of the first players in the class of 2014 to receive a verbal scholarship offer from the Blue Devils. [private]
BDN: How would you describe your strengths as a player?
Well, as you know, I'm about 235 [pounds] and 6'5" so I'm not super big like some of the huge tight end and I'm not super small and fast like the wide receivers. I think I have good versatility to be able to go out and be athletic as a wide receiver and also get inside in the box a bit and knock some heads. So that's what I'm looking to do is a little of both, just the versatility and be able to be a hybrid that can do both. I want to be able to be whatever kind of receiver or blocker that the team needs me to be.
BDN: What are you working on this offseason as you prepare for your junior year?
Goodness, it's a lot of stuff. Definitely just continuing better routes, better speed. Of course I want to get bigger, faster, and stronger. But, better routes, explosive off the line, better blocking, just continue to work on the fundamental stuff. I'm trying to be more of a lateral player, I think at times I get a bit too North-South and I think if I improve my vision I can get a lot more extra yards. Just mostly the small stuff that every player needs to be working on – the routes, the blocking, the running, the lifting – all the basics, just keep working at it.
BDN: As you approach your college decision, what are the most important things you are looking for in a school?
Well, as my dad says, we sort of have a three-legged stool. We want a winning football program, of course. We also want good character and integrity, to see how they're going to raise me, basically, since they'll be my second parents when my parents aren't there. And also, academics, how they're going to prepare me for the real world after football ends. That's the main three, and there's a lot more that goes into it, but if we see those three, then that's a college that we'd love to look at.
BDN: Which schools have you been in contact with so far?
Right now, it would be Duke, UNC, Clemson, South Carolina, and Florida. Also Auburn before Malzahn left, but I haven't heard anything from them since then, so I don't think they really count anymore.
BDN: That's a great list and obviously many of those schools are close to home. Is location something that is important to you?
Location isn't really a big deal, but as you know, it's who you know, so closer is a lot easier for a sophomore to get introduced to people. Location is not that big a deal, it's just sort of a coincidence that we know more people in this area and they've been stopping by and it's easier for us to get to know each other as opposed to a school farther away where we're not so close that I can go up there and see them and they can come see me. So it's really just who we know.
BDN: Which schools have you had a chance to visit?
I've been to all the schools on the list, except for Florida. I've been down there to see the weight room and tour the facilities, something like that. I've been impressed by all of them.
BDN: Are there any schools that you have had a chance to visit this spring or have plans to visit soon?
Actually, yes. So far this spring, I've been downt o USC and this past week I went to UNC and Duke both, they had me up there for a little basketball game and that was really fun. I'm going to try to go to all their spring practices and spring games and go down to Clemson, just to see how actual football is going to be, not just the flashy show and stuff. See how they practice and see the coaches yell a little bit, get used to that.
BDN: Are there any other schools that you are definitely interested in hearing from or visiting?
I try to keep an open mind to all schools, but some of the few that we've sort of sat down and wanted to pursue are definitely Virginia, and something like Tennessee or Kentucky, and just more ACC schools, SEC schools, something fairly close by, not too far away, but we're just open to anything. We just want to get as many options as you can, because options equal success, and it's easier if you have options, so we're just trying to get anywhere basically.
BDN: Is there anything else you want ACC football fans to know?
Just one more thing, February 18th I was offered by UNC and then actually last night I was offered by Duke.
BDN: Thanks a lot, Jeb, and best of luck.
Thank you sir, thanks for taking your time.
[/private]