The Blue Devil Nation sends the family of Kay Yow and N.C. State community our sincere condolences.  Having lost a sister to breast cancer, I understand the frustration and pain.
Coach McCallie (Coach P) -
On her reaction:
"It was just so mixed. She has been such a warrior in terms of her fight and her struggle, but a part of me is just feeling great for her to be going home to a better place for her now. It's hard to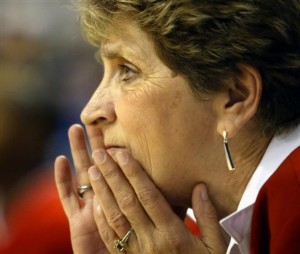 describe the feeling; it's hard to put it into words. I've never seen a woman or known a woman to share a story, her story, so eloquently under such incredible conditions. The courage that she showed, a lot of people are afraid. They're afraid to share their story. Kay was never afraid. I just know that it had to be a very peaceful thing for her. I've not known her very long, and I don't know her extremely personally, but I feel like I know her character, and I think that's the interesting thing about Kay Yow. You may not know her personally or had lunch perhaps, but the reality is you know her character and you know what she stands for. In our hearts, our thoughts, our prayers go out to North Carolina State and the entire North Carolina State family, that incredibly talented team. It's much more personal and direct for them. We grieve with them, but we also celebrate with them. There's a lot to celebrate there.
She transcends the basketball community. She's been a historic leader in a very difficult circumstance for women's health and issues. It transcends the game of basketball, and she was able to use the game of basketball in its proper context to make people better, to help people, to communicate. I still can never get over how 'pink' took over. The thing I'll always think about with Kay is how she made pink. She made pink something special. For the longest time, pink was something soft and feminine and suddenly it became this courageous fight that everyone's been united in, and that was one her many legacies. She made pink more beautiful than pink could ever be."
Duke Men's Basketball Head Coach Mike Krzyzewski -
On Kay Yow's impact:
"Over the years, I've had a lot of time to interact with her through the V Foundation. The great thing about her is that she had the courage to fight her battle in public, and as a result she not only fought for herself, but for everybody that has cancer, will have cancer, and for the families who are involved. She created an amazing awareness for that fight and set such a good example, especially in this area with Jimmy [Valvano] as a male and for Kay to do that, I don't think any area of the country has brought an awareness to the fight against cancer like this one. God bless her - she was a terrific lady. A fighter 'til the end. ... It's a sad day, but in some respects when you celebrate a life it brings a smile to your face to know you were blessed to be in the presence of an amazing individual."
Former Duke Head Coach and Current Texas Head Coach Gail Goestenkors -

"Today is a sad day for all of women's basketball.  Kay was loved and respected by everyone, and we all feel blessed to have been a small part of her life.  Our game is forever changed because of her.  Kay's impact on the players she had the opportunity to coach and teach, and the impact on her colleagues and friends, cannot be measured.  She touched everyone in such an incredible way that we all felt like we were good friends of Kay's.  I have nothing but love and respect for her.  Her legacy will live on forever in our game."
Former Duke Head Coach Debbie Leonard -
"I knew Kay most of my life.  She was a role model when I was in college, even though she coached our rival, Elon.  She was an opponent as we played summer softball on rival teams.  And of course, when I got to Duke in '77 she once again was an opponent.  Through it all, I respected her so much and our friendship grew.  When I left Duke, one of the first calls I got was from my buddy Kay.  There will never be another who has the ability to be such a competitor in one moment and such an ally in the next.  As I speak these words I know Wuffie is very busy...she's up there forming a "Hoops in Heaven" league !!!"
Former Duke Student-Athlete, Assistant Coach and Current Head Coach at California Joanne Boyle -
"Coach Yow was an inspiration to everyone in all walks of life. She was a incredible role model who had a passion for young people that went above and beyond. Her strong walk with God gave her a purpose and a platform to touch lives in a positive way through a terrible disease. She fought gracefully, bringing awareness, and more importantly, HOPE, to those battling breast cancer.  Coach Yow was a servant to others and a mentor to all.  She gave all she had before leaving this earth and she will forever be remembered in the basketball community!"