This coming year Kasey Hill, a 6'1" Umatilla, Florida scoring point guard, will have a pair of significant additions to his Montverde Academy (FL) program. Kevin Boyle and Dakari Johnsonhave traded New Jersey winters for Floridian humidity. Boyle, who coached Kyrie Irving, the former Blue Devil guard and the NBA's number one overall draft pick, in high school at St. Patrick's (NJ), takes over a Montverde Academy program that finished 22-4 overall and fifteenth in the country last season. Montverde, located about thirty minutes away from Orlando, has two current NBA players, Solomon Alabi and Luc Mbah a Moute, as alumni.
Hill, who has been playing varsity basketball since he was a sixth grader at Mount Dora Bible School (FL), demonstrated more of an ability to be a facilitator, while leveraging his natural speed and penetrating ability, for the Florida Rams Black this AAU season. A high point of the rising junior's summer was winning the Adidas Invitational in Indianapolis and being named the tournament's MVP. The born scorer, with a penchant for finishing in traffic, led his Florida Rams Black team with 28 points and orchestrated the program's offense in front of an assortment of college coaches and a national television audience.
At the Super 64 in Las Vegas, the 2013 point guard played briefly in front of the Duke coaching staff. Last weekend, Kasey Hill played in greater Los Angeles, as part of the latest Adidas Nations event.
Kasey spoke with Blue Devil Nation about the latest in his recruitment, his new coach,
Can you talk about, perhaps, a highlight of your summer, your (MVP) performance at the Addidas Invitational? Touch on how you and your teammates played at that tournament.
I did pretty good at the Addidas Invitational, but most importantly, it was a team effort. It wasn't just me. It was just a lot of good things coming together.
[private]
How much momentum were you able to carry and how much of that winning mentality that you had earned were you able to bring to the future events?
I think it helped a little bit. We should've been able to use that. We have to stay consistent with our defense and use it to motivate ourselves.
People are always interested in recruiting. What schools are currently recruiting you?
Florida, Memphis, Louisville, Kentucky, USF, Miami, Baylor, Kansas. I'm sure that I'm missing some.
Anyone recently coming into the picture?
No, not that I know of.
In terms of your overall timeline, is this relatively early for you?
Yeah, it's really early.
Do you view yourself as a scoring point guard? Is that a fair characterization?
Yeah, that's a good way of putting it.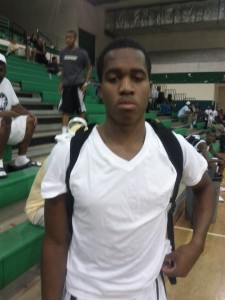 What do you know about Coach Boyle?
He seems like he's a great guy. I'm excited to play for him. I've talked to him on the phone a couple of times. Overall, he seems like a good guy.
He seems excited?
Oh, yes, sir, he definitely seems excited.
Did he give you any advice, in terms of what he's looking for out of you next year?
Not really. He says we'll sit down and talk about what the team needs when it gets closer to the season.
Well, you've got a valuable new addition and a very nice kid in Dakari Johnson.
Yes, sir. I heard he's really good.
It'll be great to have a quality big guy out there to take some pressure off of you.
Yes, sir,. We'll be young and improving too.
Do you know which national tournaments you will be playing at next year that people might be able to catch you at?
I really have no idea. I don't know that the coaches have made the schedule out so far.
For people who haven't seen you play, what would you say is your greatest strength right now?
I'd say penetrating and just getting to the baskets.. my explosiveness. I guess I'd say my strengths are just getting to the basket and now getting my teammates involved.
What would you say is a weakness that you'd most like to improve upon?
My jumpshot. I'd like to improve upon that.
You've hit a few threes in several of the tournaments, including the Addidas Invitational, but it's always good to hear that a player recognizes there's room for improvement.
Yes, sir.
Is there a player you try to model your game after? Or a favorite player?
No, not really. I can't think of one guy.
I was trying to figure out if I could recognize a player whose game is or was similar to yours.
Yeah, I can't really think of one. I don't know him. (laughs)
What are you looking for ideally, whenever you do decide?
Just like a college that fits my game overall and has great coaches.
What would you say is your overall game? A penetrating point guard?
Yeah, a penetrating point guard and one who wants to get out and run.
And who are you turning to for guidance whenever you do decide? Who are some people?
My Coach, Jeff Simmons, who's also my guardian, and my mother and my grandmother.
Do you have any visits planned?
No, not yet.
Did you have any favorite teams growing up? Either college or pro.
No, not really.
Where did you actually grow up, by the way?
Umatilla, Florida. It's in, like, Central or North Florida. It's a really small place.
What would you like the audience to know about you away from the court?
That I'm just a really laid-back kid and that I like to have fun.
And very active on Twitter, I see.
Yes, sir. (laughs)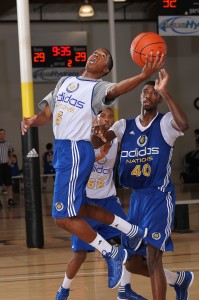 Who's the best player you've played so far?
So far, I'd probably say Shabazz Muhummad. I couldn't believe how good he was when I played him in Georgia.
Yeah, he always goes hard.
Yeah, he's amazing.
Who are some coaches that you enjoy talking to?
Definitely Coach Donovan, Coach Cal, Coach Rick Pitino, Coach Hamilton, Coach Stan Heath, Coach Donnie Jones.
When you're playing off the ball, what is your favorite place to catch the ball?
Probably on the wing. That is probably my best area.
How far out do you feel comfortable shooting the ball?
Probably fifteen feet...probably a fifteen foot jumper.
What's the toughest type of player for you to defend?
Probably a lefty. Lefties can be tough to deal with.
A lefty? And does strength play a factor at all or not too much?
No, not really, cause I try to use my speed against them.
And how did you choose your school, Montverde?
I really just chose it because it was a great academic school. It was supposed to be, like, a great college preparatory school and teach you about life.
Do you think Montverde has helped you, long-term, to make decisions and live away from home?
Yes, sir...probably more than most normal kids. In some ways, I feel a little more grown up or mature than some other kids.
Lastly, has Duke expressed any interest in you so far?
No, not really, but North Carolina has... but not a lot recently.
What do you know about those two programs?
I know that they're great programs pretty much, well, since they started.
And you mentioned before that it was still early. Would you be open to either of them?
Yes, sir, I'll definitely listen. I'd definitely be open to both of them.
Thank you very much.
Thank you, sir.[/private]