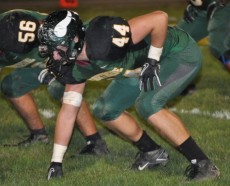 With national signing day wrapping up, football recruiting will officially transition from the class of 2011 to the class of 2012. Duke kicked off the 2012 recruiting season this past weekend with the first of two Junior Days in Durham. Over 100 prospects made the trip to campus and most came away impressed with the Blue Devil program. BDN kicks off our coverage of the class of 2012 with a series of interviews with this weekend's visitors.
Dakota Jackson is a 6'4" 245 pound tight end prospect from Roanoke, VA. He already has been contacted by an impressive list of schools, and recently made his second trip to Durham for Duke's Junior Day. Highlights from his junior year, during which he helped Northside High School to a state championship, can be viewed here.
BDN: Can you start off by describing the strengths and weaknesses of your game for someone who hasn't had a chance to see you play?
Hard nosed football. That's how I base everything I do. Just getting after it until the whistle blows, basically.
BDN: What are some of the things you've been working on this offseason?
After last season, my goal is to get up to about 240-245, and I've already gained all that and it's not fat at all, it's all muscle. I'm gonna stay in the weight room, try to get my 40 time to about 4.6 flat, around in there. Just keep working with the team and everything, try to get better and try to win another state championship next year.
BDN: You mentioned winning another state championship this fall. What are some of your other goals for yourself individually and your team?
We do like a line, like grading, because we run the ball a lot, and I want to grade out above 95% for the whole year. I want to have at least like 4 or 5 pancakes each game. Catching-wise, probably like about 10, 15, or even 20 touchdowns this year.
BDN: What are the most important things you are looking for in a college?
Whether I fit in there, if it's a program that uses the tight end, that isn't just a glorified tackle, that use them in their scheme. It's all about just finding the right home and that kind of stuff. It all fits in. Just if it fits for me and everything clicks. I mean all the campuses I've been to so far, they were all nice so it would be tough to say which one sticks out the most because I like them all so far.
BDN: What schools have you recently heard from? Who was the first school to contact you?
First ones to contact were area schools like VMI, Liberty, Richmond, and then [Virginia] Tech and UVA followed. Penn State, UCLA, Maryland, ECU, Duke, and Tennessee a little bit. I've been to Duke twice now, their Junior Day this weekend and I went to a game back in the fall. I've been to [Virginia] Tech twice – I went to see two of their games. I go there the 26th of February for their Junior Day. UVA – I went to watch one of their games and I went to a couple other games up there with a couple of my friends. Haven't been able to go up to Penn State yet, but I'm planning on it either this offseason or next year. I go to Richmond the 20th of February for a visit.
BDN: I know you said earlier that you liked all the schools you have visited so far. Were there any schools you came away particularly impressed with?
I was impressed with Duke's academics. They spend just thousands and thousands on just the academics alone and making sure that once you graduate you're not only going to have a degree, but you're going to have an education behind that degree. If football doesn't work out for you, then you're going to have something to fall back on. I mean I'm looking for that too, because it doesn't always work out and you're going to have to have that education to back it up. But all the football programs, they've all been great, so I couldn't really put one ahead of the other right now.
BDN: It's still very early in the process, but ideally, when would you like to make your college decision?
I'm not sure, I'm probably just going to have to play it by ear. If it happens soon, then that's good. Just whenever the offer comes and whether or not it's a fit for me. I'll have to make that decision then, because I'm not sure, to tell you really right now.
BDN: Is there anything else you think is important for ACC football fans to know about you?
Off the field, I'm like a book guy. I just try and keep my grades as high as they can get and that kind of stuff. But on the field, I just play with tenacity, I just get after it every play and I hate to lose. I do everything I can and in the offseason, I work my butt off with my teammates and everything just so that we don't lose. We just keep doing better and better and better.
BDN: Thanks a lot, Dakota and best of luck to you.
Thanks, you too.