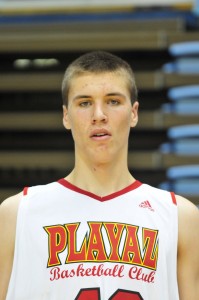 Day one of our Adidas Nations coverage is underway where BDN's Andrew Slater is on the scene bringing constant updates as they happen to our premium members.  Duke Coach Mike Krzyzewski and Chris Collins are in the house where they are watching several prospects.  One of those is Shabazz Muhammad who just dropped 32 points.  Alex Murphy?  He just dunked a ball to tie his team's game up at 74 all with three seconds left on the game clock. 
Find out who the Duke staff is watching and how Duke's hot  prospects are doing by becoming a subscriber to the most active Duke site on the AAU circuit, Blue Devil Nation Premium.  Andrew has already listed some of the measurements for key recruits at the LeBron Skills Academy in Akron as well.  And he will continue to cover both events as the week progresses.
He has already talked with Marshall Plumlee, Shabazz Muhammad, Kaleb Tarczewski and Troy Murphy, so interviews are coming.  So if you want to hear about the throng of the nation's finest coaches are watching or the circus atmosphere surrounding LeBron James, check out our trial offer which lasts just a few more days or join for the year which is the best bargain.  It's a great time to be a member of BDN Premium.
As soon as you are done, join our private message board where you can find updates like these as they happen -
Drew, Crean, Dixon, Huggins, Capel, Miller, Self, and plenty of assistants. NE Playaz won convincingly, 68-50. The only one who was consistently able to score for D-One was Deuce. Bello finished with 26. Quincy couldn't defend Tarczewski and Clifton kept telling their replacement coach to pull him off of him- Adding that it was Quincy and four midgets. Miller finished with 5points, which is, by far, the least I've ever seen with him. Murphy, displaying his high bb IQ and improved athleticism and strength, and Tarczewski really closed out well in the second half. Alex Murphy finished with 18 and Kaleb Tarczewski finished with a team-high 19. K and Collins are watching DC Assault take on Franchize All-Stars.
Follow us on twitter for updates from the events - BlueDevilNation or go to the sidebar on the main page