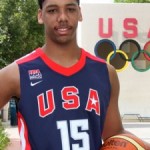 COLORADO SPRINGS, CO—Traditional, back-to-the-basket big men of elite caliber are becoming synonymous with rare across the basketball landscape. And that's precisely why Jahlil Okafor—the top-ranked player in the class of 2014 according to ESPN—is one of the more unique prospects to come through the prep ranks in recent years.
The Chicago product has been a known commodity for years, garnering high-major offers as an underclassman. The Duke coaching staff pulled the trigger abnormally early by extending him a scholarship during the fall of his sophomore year.
Increasing hype and media attention has been the norm since then, but for good reason. The Whitney Young High School superstar is a throwback center with a wide body, soft touch, impeccable footwork and a diverse arsenal of scoring moves on the low block. He possesses legitimate NBA size and power for the center position at 6-foot-11 and 270-pounds. To top it all off, he's an intelligent player who predicates his game on winning rather than individual achievement.
The Blue Devil coaching staff has swung and missed on a handful of its priority big men on the recruiting trail these past few years, which makes its chase for Okafor all that more important, as well as [private] compelling. Fair or unfair, there is a widespread stigma of Duke's inability to utilize and produce quality post players circulating around the college basketball landscape. For years, Blue Devil fans have pegged Okafor—who has unofficially visited Duke twice in his high school career—as the player to change that perception in Durham. To up the stakes even more in the recruitment, Okafor has strongly contended that he will attend the same school as his close friend Tyus Jones—the top-ranked point guard in the class of 2014.
Eight schools occupy Okafor's list of prospective college programs: Arizona, Baylor, Duke, Illinois, Kansas, Kentucky, Michigan State and Ohio State.
Due to a recurring ankle sprain, Okafor has been forced to miss much of the action of this spring on Nike EYBL circuit with his AAU team the Mac Irvin Fire.
Along with fellow prepster Justise Winslow, the almost fully healthy Okafor is one of just two high schoolers vying for a spot on the U.S. U-19 National Team, which is headlined by mostly rising sophomores in college. During practices, it was evident that Okafor was one of the best players on the floor and will likely centerpiece of the team hungry to claim the gold medal.
Following Monday morning's practice, Okafor sat down to update Blue Devil Nation on his experiences with the U.S. U-19 National Team and with where things stand in his recruitment.
Question: We'll start with the U.S. U-19 team experience. You are one of the youngest guys in the gym here. How has playing up help enhanced your game this week?
Answer: "It's been great. You know I have improved so much this week going against these top college players. The coaches in Billy Donavan and Shaka Smart are really helping me develop. I have improved a lot over these last four or five days."
Q: Who are some of the tougher matchups you faced one-on-one here at the training camp?
A: "All these big men are tough. Jarnell Stokes [of Tenneessee], [Mike] Tobey [of Virginia], Montrezel Harrrell [of Louisville]. You know everybody here is tough. They are really strong, but it's a lot of fun. And it's very competitive."
Q: Have you learned anything new about your game having gone up against these more mature players this week?
A: "Just that I play better when I play with other great players. It helps me elevate my game. So the better the players are around me, the better I play."
Q: Looks like you have lost a little bit of weight since I last saw you in Hampton, Va?
A: "Yeah, I have lost a little."
Q: How has that helped benefit your game especially since it appears that this U-19 team will use a fast-paced, full-court pressure style of play as much as possible? And is that style a little bit different that what you are accustomed to in high school?
A: "Yeah, definitely. I like it. It's something new. My AAU team, we get up and down. I have been getting in shape to get ready for this experience, so it's a lot of fun."
Q: And what is your official height and weight at nowadays?
A: "I'm 6-foot-11, 270 [pounds]."
Q: I understand that you have been rooming with Justise Winslow and Rasheed Sulaimon. What has that experience been like with those guys?
A: "It's fun. We just talk a lot, crack jokes. It's a lot of fun."
Q: Is 'Sheed doing any recruiting?
A: "No. 'Sheed doesn't do that. He pretty much knows that he can't really affect our decisions. We'll ask him questions about Duke, and he'll answer them. But he doesn't try to recruit us. If we ever have any questions, he'll always give us a truthful answer."
Q: Do you know who you'll be rooming with going forward on this U.S. team?
A: "I'm not sure at this point. They decide our roommates."
Q: You've had an ankle injury that has sidelined you for a good amount of this spring. How is your ankle doing right now?
A: "It's doing pretty good. I missed a lot of the Nike EYBL sessions just because it was a high ankle sprain, but it's doing really good now. I have a lot of great trainers here who are really helping me with it and getting it stronger."
Q: After this stint with the U-19 team is over with, what are your basketball plans the rest of the summer?
A: "Win Peach Jam. I'm very confident that we can, so after we win a gold medal with this U.S.A. team I want to win the Peach Jam."
Q: Let's get to your recruitment. Baylor is one school that is scheduled to receive an official visit from both you and Tyus Jones. What all went behind choosing Baylor as a school that gets one of those five official visits?
A: "I just really like Baylor and what they have to offer. Coach Drew is a very energetic coach and I really like that. Baylor is a Christian school, so you that's what my family loves so much about it. And the campus is just amazing. I've seen pictures and they've sent me a little video. I just want to experience Baylor and see what it is like."
Q: So, have you ever visited Baylor before?
A: "No, I haven't. Tyus has visited there before, and he just told me that we should definitely go see it because he thought it was really great."
Q: And does Tyus have a cousin or some sort of relative that is connected to Baylor in some way?
A: "His cousin [Jared Nuness] is a [basketball] coach at Baylor."
Q: Do you have any other official visits set up? Or do you have any idea as to what other schools you want to take official visits to?
A: "Not really, no. I have been busy and haven't been able to set any more up yet."
Q: What sort of criteria will you use to decide which schools get those last four official visits?
A: "I haven't been able to really focus on that a whole lot on it lately, but it'll probably be a combination of things: the coaching staffs I'm most comfortable with, seeing what Tyus and my parents are thinking, things like that. We'll see."
Q: What's the communication between you and coaches been like these past several weeks? Has it been pretty busy with coaches blowing up your phone?
A: "It's been pretty busy. Some more than others I guess. I hear from the coaches about the same as far as frequency. I've talked to Coach Capel. Coach K was here [in Colorado Springs] and he spoke with me a lot—not about Duke—just about improving out here and what I should do to get better. I've talked to Kansas, Kentucky, Baylor, Michigan State, Ohio State and Arizona here lately too."
Q: What has Duke and Coach Capel been communicating to you about here lately?
A: "Just seeing how I'm doing, catching up. He was telling me that Coach K told him that I was playing well here. [Capel] was just telling me to keep it up, keep working, keep improving, and don't have an attitude out here that I'm a young guy. Act just like I'm another player out here."
Q: Kansas just hired Jerrance Howard, who obviously has a lot of ties to the state of Illinois. Do you have any sort of relationship with him? And if so, how does that affect your recruitment?
A: "You know it doesn't hurt having him over there. You know he was one of the first coaches to recruit me. When he was at Illinois he offered me a scholarship. I've known him since like eighth grade, freshman year. I'm really close with Jerrance and him at Kansas doesn't hurt at all. I'm happy that he's there."
Q: And why wasn't Tyus able to participate in this Team U.S.A. function?
A: "He had some family issues going on, so he couldn't make it."
Q: Are you and Tyus any closer to determining a timetable for a college announcement?
A: "No, we aren't really." [/private]