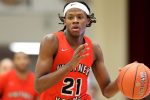 After his impressive performances at the Nike Peach Jam, Duke has offered DJ Steward.  Duke Coach Mike Krzyzewski extended an offer after watching him with assistants, Jon Scheyer, and Nate James during the last two days of the event.
Steward is a 6-3 combo guard with a natural knack for scoring.    The fast-rising young star scored 31 points, dished out 5 assists while pulling down 12 rebounds while the Duke staff watched his game against a stacked AOC team and an offer came within hours after the performance.
The Chicago native is making a name for himself by playing high-level basketball, showing grit and determination to make himself better.
To give you an idea of his ascent up the rankings, Steward originally was ranked as the 103rd best player and is now tabbed as high as 27.  By weeks end, he will be in the teens in adjusted rankings per reliable sources.
Steward was on the Duke radar prior to the Peach Jam where the Blue Devils staff sent word they would watch him.  Needless to say, he impressed the longtime Duke coach, Mike Krzyzewski enough to move fast to get into the expanding picture.
Duke will now try to set up a visit in the future for Steward and he will hear from Krzyzewski as he is likely to take his time and go on his allotted five official visits.
Only time will tell whether Duke gets one of those visits, but the feeling her is they should as the relationship develops.  It is worth noting he has played for Whitney Young High School which is the alma mater of former Blue Devil and current New Orlean Pelican center Jahlil Okafor.
Very Blessed and grateful to have received an offer from Coach K and Duke University! #Thebrotherhood👀🔵 pic.twitter.com/iAvs07L3iv

— DJ Steward (@swipasnipa) July 13, 2019