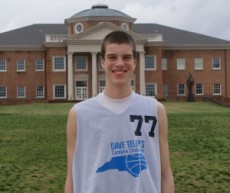 Marshall Plumlee is a listed 6'11 1/2" center from Warsaw, Indiana, who plays for Christ School in Arden, North Carolina. The rising junior has been on the radar of recruiters for years due to his size and, more importantly, pedigree, as the youngest brother of two current Duke big men. At the recent Super 64 Adidas AAU event, Plumlee was observed by many of the nation's elite coaches and programs, including Florida, Notre Dame, Indiana, North Carolina, Purdue, and Duke.While playing with the sixteen-and-under Indiana Elite team, Marshall led them to a Sweet Sixteen match up against Quinn Cook and D.C. Assault, who won the contest convincingly. Over the course of the tournament, Marshall spoke with Blue Devil Nation about a variety of issues, including what he's been working on this summer, what Duke fans can expect out of Mason Plumlee, and how he differs from his older brothers on the court.
You've gotten some more offers coming in recently and there were plenty of coaches here to observe you, amongst others, today. Do you still view this as very early in your recruitment? Do you have a timeline in mind for when you'd like to decide?
Yeah, it's still pretty early. At this point, I'm learning more about schools, [private] but, knowing the recruiting process, I'm more ignoring the recruiting process and still just focusing on getting ready for the upcoming season. I've still got a long ways to go. It's been pretty exciting.
Yeah, absolutely. The gym was so packed today I was just grateful that they didn't have an fire marshals.
(Laughs) Yeah, it was packed and hot out there.
What style of play do you feel best suits your game? Does it change now that you've grown to nearly seven feet?
I've always been a back-to-the-basket kind of player, but I've got to say my game is more fifteen feet and in. I'm trying to work on my ball-handling and on my fifteen foot shot. You know just trying to expand my game.
You hit all of your free throws in the second half.  Is foul shooting something that you've been working on as well?
Yeah, yeah, well, I normally go the free throw line a lot, but I normally don't miss that much. (laughs)
No, no, no, you were fine with that today.
It's something I've got to continue to work on.
Have you visited a lot of schools?
Well, I've visited a lot of schools with my brothers, but not necessarily for me. On my own, I've visited schools like IU, Notre Dame, and UNC. It's exciting.
Sure, you're the one being coveted.
Yeah, it's exciting to be taken around and you're the one being recruited, instead of just following around your older brothers.
Do you think it's a major advantage for you having had two older brothers that have just gone through the process?
Most definitely. It's a huge advantage, especially not just one brother, but two brothers. So, I have an idea of all the coaches that I've met and come across through their experiences. I've also looked at a variety of conferences. I feel like I'm pretty well off and I don't feel as though I should feel rushed into any decisions.
I've spoken to Mason about this, but what was the move like for you when you came to the Christ School. You moved from Warsaw, Indiana to Arden, North Carolina.
That was exciting. It was a little tough being away from home and your family, but the experience was great and I love the school. You're there with two hundred other kids in the same situation as you. You know, not sure about being away from home.
When I was in Asheville last year, I actually drove over. I thought I might as well see it. It's so close.
Asheville is a beautiful city and I try to take advantage and see it as much as possible when I 'm there. There's so much to do there, especially outdoors, and I couldn't be happier. I was a little unsure about the move at first, but I…
Mason had said he was a little unsure at first as well, but then it turned around.
Yeah, but now I couldn't be happier.
I was checking my notes from a few prior interviews. Mason had mentioned that he thought Miles was the best athlete of the brothers, but that you were the best back-to-the-basket player. Do you feel that's an accurate assessment?
Yeah, well, I guess that's a good assessment, but I still feel like I've got a long ways to go before I reach my brothers' levels in anything. They're both really good. Miles and Mason are both great athletes and I'm so happy with how they've done. I just hope that I can be any bit like them…well, that'd be exciting. I'm still hoping to expand my game and develop physically.
By the way, how tall are you right now?
I'm about 6'11."
Can you give the audience a scouting report on Mason and what they can expect?
Sure, they can expect to see him continuing to improve over the course of the season. I can guarantee that. They should expect him to improve every single game. He's very head strong and determined. He's got a great attitude. What you don't see on the court is the amount of time he puts into the game off of the court.
I'm sure. He seems like a great kid.
He is. Everyone has a pretty good idea of what he can do on the court right now, but I can promise you that he's been working very hard on improving and expanding his game.
Now I remember that Mason said that your mother was really more of a tennis player, but they needed to find a sneaky way to find a scholarship.
(Laughs) Yeah, yeah. I play tennis too actually.
Really? I've got to watch out for that serve. Having said that, how do you think it differentiates you from other kids in having both of your parents play college basketball? Compared to your parents, mine would've looked like a pair of midgets.
(Laughs) Yeah, it helps and I love them to death. The most important thing I've learned to do is…You know how you tend to just blow your parents off because they're just always giving you advice, but really there is just so much that I don't know. So I'm just trying to take it all in.
Sure, they must have a lot more to share than the average parent.
Yeah, definitely. My mom and my dad have helped me out greatly.
Did they make the trip? I've seen them at lot of other tournaments and events, but I didn't see them here.
No, they didn't make this trip.
Well, it's so hot anyway. Let's talk about your strengths and some areas that you'd like to improve upon.
I think my strengths are my defense and my ability to run the floor. Also, I can and like to throw outlet passes. My weaknesses would be my ball handling and my shooting. I want to develop a strong game from, maybe, seventeen feet and in. Just working on getting quick dribbles or pulling up for a jump shot. Oh, and free throws, of course.
How do you feel about your development, with respect to low-post moves?
Yeah, I feel pretty confident with my low-post moves actually. If you asked me to pick a spot on the floor where I wanted to score, I'd say "low post."
Do you have any role models in basketball?
I've always personally admired Kevin Garnett for the energy he brings and how he plays. I try to just go out there and give it my all.
You're different than your brothers in that you are a pure center at a younger age. Can you talk about being a pure center and how you feel it differentiates it you from your brothers?
It came more naturally to me. I've always been pretty tall. Miles was a late bloomer.
You were like 6'7" last year.
Yeah, I was. I've always been pretty tall for my age and I think playing inside just came more naturally for me. I've still got a lot of work to do, but I see myself playing down there. I'm probably not going to end up being as big as some of these guys so I've got to really work on expanding my game.
You were talking the other day about improving your ball-handling and range. Have you begun to seriously hit the weight room?
I have. The weight room…I'm not worried at all about that because having seen two brothers go through that.
Can you touch on what you've seen or heard Miles go through as a result of beginning a college weight room program?
I'm not worried about it. It's something that's going to come. I've worked in the weight room obviously. You can tell.
I know Mason has begun the program.
Yeah, it's something that I'll seriously ground out, once I stop growing.
I didn't know what you were hoping to look like.
Yeah, it's something where I think I'll fill out after I stop growing.
Well, that touches on something else. Have the doctors talked with you about how tall you're going to grow to?
I have no idea. I'm just going to prepare for anything and, so, I'm just going to work on my skills. That way regardless of how tall I grow to I'll be prepared.
That's a smart approach. When you're not at tournaments and other events, what have you been working on this summer?
I've been working on my footwork and ball-handling. With my footwork, I've been jumping rope. I've been jumping a lot of rope and doing a lot of stepladders. You know just trying to improve my lateral quickness.
Lateral quickness?
Yeah, I feel I'm finally starting to get quicker end-to-end.
Yeah, I think you've made some strides in that area. How do you feel about your shot-blocking right now? Do you think this tournament has been a good example of your current ability to block shots?
I feel I still have a lot of work to do in that area. I try to come on the help side, but I've got to be just a half of a second quicker.
Who's the toughest player you've ever defended?
Toughest player, hmm..
Outside of your family…so we don't get political.
Well, when I played the Lopez brothers.
Oh, wow. That must've been an interesting experience, particularly at your age.
Yeah, it was. It was out at Stanford. It was really tough, but amazing.
What would you like the audience to know about you away from the court?
I can beat anybody at video games.
Alright, even Mason, I remember he said he was very good at them too.
Oh, yeah, I can beat him too.
How do you feel you've performed over this AAU season.?
I feel like I've improved a lot. With my performances on the court, I feel like I've made great strides. I obviously have a long way to go and I'm going to keep working, but, personally, I feel like I've made strides and I'm happy with myself in general. I think I'm on track and I'm going to keep working.
How has the team overall been playing? This was a good win against a quality program in the Playaz.
Yeah, it was. They beat us earlier in the season on a last second shot and they've got some quality players.
Kyle Anderson is a potentially interesting point guard prospect. I've spoken with him in the past.
Yeah, he is. We've been coming together. We're improving and playing together more now.
Lastly, since I see someone waving you on, will you be able to make it Cameron for some games this year to see your brothers?
Yeah, they (Indiana Elite staff) want me to go. Will I make it to Cameron? Yeah, I'll be trying to. I'm going to try to go every chance I can get.
Note - Mason will attend the Duke Elite Camp and will almost certainly be offered a scholarship at that time per sources. - MW [/private]