While football season is set to kick off this weekend, echo's can be heard from dribbling of basketballs in Cameron and the practice facility.  In about another week, pre seasons hoops magazines will hit the newsstands and there will always be talk around one of the most storied programs in America.  With that said, here is our latest Duke Basketball Team and Recruiting Update for our members and there is plenty to read about.  First, we have Duke Assistant Coach Jeff Capel sharing his thoughts on every player including the freshman.  I then give my analysis and add some nuggets.  This update also addresses recruiting and we even take a look into what to expect this coming season with concern to style of play.  So, here we go with a 3700 plus word update on the latest on the Duke Hoops front -
This is the first year due to NCAA rule changes that Duke has been able to work out more with their team over the summer. That means they had two one hour practice just about each week. "They've been some of the toughest practices I've been a part of since I've been back at Duke," said Capel. These one hour practices were very intense and fast paced were at a high level. There has been intensity and greater fighting for positions.
The pace that the players have been exposed to this off season has been different than anything any of them had done at Duke in the past per Capel and word is that some tongues have been dragging after some tough conditioning.
Duke is now looking for separation. The staff is trying to figure out who guys are right now and once an assessment is made, they will use that to talk to them and define roles for the coming season.  "We tell them here is what you need to do to get to where we want you to be by the time we kick off the season," said Capel.
The Blue Devils staff sits down each season to adjust their strategy for the coming season and it's supposedly quite the skull session.  When roles are defined, it is important to success that each player buys into their assignment for if not there could be a fracture in team chemistry.  Coach Krzyzewski will map a strategy and or plan and [private] the work will begin and this has likely already happened but only just recently.  What Krzyzewski does is allow his teams strength to dictate the strategy.  A year ago, Duke was a big team and they played a controlled game taking break opportunities when they became available but not necessarily pushing the ball at all times.  This season, he has a team that can press more and move and he will likely master spacing his guys properly creating some serious match up problems for some opponents.  Without the depth at the big man spots a season ago, it will be rebounding by committee and there will be times when a power player may go off on Duke but a three pointer is greater than a dunk, so the Blue Devils can get past that issue.  Many of you may not remember the great Len Bias formerly of Maryland who died an untimely death after being drafted by the Boston Celtics.  When he played his last game in Cameron, he was dominant, dropping 33 points and having his way inside, but Krzyzewski allowed that to happen while shutting down everybody else on the Terps team and Duke coasted to a comfortable win.  I can see that happening this season in some manner, the point being, the teams strengths will almost certainly be better than their weaknesses.
Here is a long look at the players, followed by a recruiting update for members -
Amile Jefferson
"He went home this summer and we have allowed him to showcase his talent. It is important for us that his role can be significantly more this year and that is something I think he wants so he has worked hard to prepare for that. His ability to guard different positions and his ability to be unique on offense is intriguing for our team. He's a basketball player. he can handle the ball, score around the rim, a good passer, he just has a good feel," said Duke Assistant Coach Jeff Capel in a recent conversation.
Jefferson is like any Philly kid, he loves his home, so he returned there this summer but he balled with some good talent while there.  Duke likes his versatility and that likely means he could start, but we'll see.  I personally think Duke will rotate the 5th position in the line up according to match ups this season.  Amile  brings that old school cerebral play
Marshall Plumlee
"The big thing with Marshall is to just get healthy. Last year, until the time that school started, he was playing very, very well and would have made our rotation. He was never healthy when he came back and had surgery after the season, so we have just wanted him to get healthy. He's worked hard this off season and worked with Will Stephens, with strength and conditioning The key is to maintain the weight as he gets ready to start running and burning calories. Marshall is going to be important for us in that he's our biggest guy this season and if he embraces his role with rebounding, screening and running, then he can contribute all season long," per Capel
Plumlee just started running a week or so ago but he has not progressed where he can make sharp cuts yet, so there is a way to go here.  The hope is for the added weight to stick or at least half of it once he starts to run with the team.  A season ago, many felt Coach K saying he would have been in the rotation coach speak, but Plumlee seems to be set for a role provided his legs return and there is no set backs.  Dude drank a ton of muscles shakes per Will Stephenson orders and did a lot of under water work during rehab.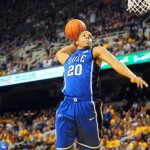 Andre Dawkins
"He has a special skill with the three ball and he can impact a game instantly. It's been great to have him back and he's worked hard to get into shape and develop skills. He's been through a lot on and off the court and has the ability to share those things with our younger guys. He's been a part of a national championship but he's also lost in the first round of the NCAA Tournament. The main thing is he arms us with a weapon with his ability to shoot the basketball. Whatever role he earns on this team is up to him. He can put up points in a short time," said Capel
Dawkins has been through a lot off the court with the passing of his sister.  He worked in the off season with a trainer and decided he wanted to return to the team in the season ending exit meetings and a plan was formed.  Dawkins can have a quick effect on the game with his abilities and the key will be for him to bring that consistently and not be a kid just hanging out around the three point line as he got into the habit of when we last saw him.  A mature Dawkins is a good thing and he's a player who will not shy away from that big shot if it presents itself.
Jabari Parker
With Jabari his skill set and talent are very unique, so we don't know the exact spot or a position on the floor he'll play other than he''ll be a really good player, so you are going to see him all over the floor doing a little bit of everything. It will literally be everything. He can bring the ball up the floor and initiate things and he's one of those guys on the team we feel he can do those kind of things along with Rodney. We don't want to limit his abilities or strengths, so he'll be used in a lot of different ways.
Parker has done everything the staff has asked of him and has a focus which is important for a player of his hype stature and the mere fact he's a freshman. Coach Krzyzewski used Luol Deng in a similar role, but Parker has much better post skills. I think what we are seeing is that the staff will allow Parker free reign from the word go and they'll seek to not pigeon hole him into what we'll call a traditional position. I can see Parker playing pretty much every position on the court on defense, but doubt he will be needed against the point other than on presses. The word is that Parker has showed well in practice and that alone is enough to excite the fan base as if they are not already stoked enough for the coming season.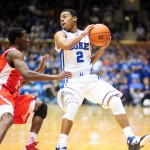 Quinn Cook
"Quinn had a great season last year. He was a third team All ACC pick and the MVP in Atlantis. One of the big mistakes that Quinn or anybody can make is thinking it's going to happen this year because of last year. This year will be different and the way we will play will be very different. Quinn had a great summer and he came back in really good shape as a player. It's his team or a chance to be his team but he has to still work to make that happen and come to play every day. Quinn should be a very intrical part of the team this season," Duke Assistant Coach Jeff Capel.
Quinn spent a lot of time at home in the D.C. region working out with some of the fine talent in that area and he comes back in tip top shape and condition per sources. Cook has a chance to take another leap this season and to do that he needs to learn to control the game and his team. If Cook can blend early on with his teammates, the upside is enormous. Cook has been playing with a lot of confidence this off season and if the maintains his mental focus first and foremost, he will be in the discussion as one of the best point guards in the country by seasons end. Cook knows there is a savvy senior in Tyler Thornton and a sleek sophomore in Rasheed Sulaimon capable of of running the point waiting in the wings, so I expect we'll get his best effort this season. His ball pressure and his ability to defend has stood out the most about Cook in our eyes.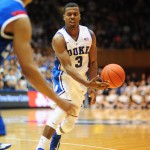 Tyler Thornton
Tyler is unquestionably a leader on this team. He is probably the most respected guy on his team and he's found a way to contribute each year here since he was a freshman. Tyler brings intangibles, Tyler effects winning and he does a lot of things that do not show up in the stat sheet but for people who truly understand basketball they can appreciate what he brings to the team. He's a guy who you want all your team to look like in that he is totally immersed in winning..
Thornton has always found a way to get on the court in that he is tough as nails mentally and physically.  Thornton is a gentlemen in every sense since I met him as a junior on the recruiting trail, but he'll talk a little smack out there if it can get under the other teams skin and that kind of thing is needed.  I think he gets a captain spot on this seasons team in that he is respected by all.
Alex Murphy
"I think Alex has had a great off season. It's probably the first time he has been completely 100% invested in himself and I think he would tell you that. I think this summer he chose to remain here for both summer sessions when in the past he would go home or play with the Finnish National Team. He had a chance to do both of those things again this year but he chose to stay and I think that has helped his level of confidence. Every player and coach knows how much talent Alex has, but the thing for him is to have the confidence to play that way, through mistakes and to have the confidence to play and react without thinking so much. The way we will play this year will help him and that will blend itself for him not thinking as much and just reacting," said Capel.
Just play, don't think.  Has to believe in himself.  This is what I hear on Alex and it seems he's bought into the suggestions.  Did you know that he has been in the starting line up for each of the last two exhibition openers?  Murphy has made off season strides but we'll only now how much so when we see him play again.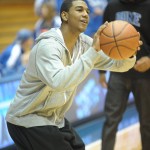 Matt Jones
"Matt is a really good player who has done a good job since he's been here. One of the things with Matt is he has been coached really hard in high school and his coach did a great job this past season teaching him defense. With the AAU program he played for he was coached really hard, so he's been held accountable and a lot has been demanded of him. He's been able to adjust very quickly to the speed of the game. Speed and defense are the two biggest things high school guys must adjust to and most do not play defense in high school. he works really hard and he's going to fight to be an important guy on his team," - per Capel.
Great family, solid kid.  Doesn't cut up a lot or act out.  Kind of what any parent or coach would want, right?  Remember when I said he could be the odd man out this coming season due to depth.  Well, I take that back for by all accounts he is playing better than a freshman should, meaning he has worked hard knowing that's what it will take to crack the line up with this seasons wing loaded roster.  The word is that he has thrived in the weight room and gotten stronger and he's becoming the X-Factor freshman in my eyes.
Semi Ojeleye
I think all the freshman will have to adjust to the speed of the game but Semi is probably the strongest kid who has walked through the doors here as a freshman. He's the kind of guy who if he tested at the NFL combine he would do well and probably be a first round pick just based on his body and athleticism. He prepares and carries himself well and he is confident, add to that he can really shoot the basketball. He fits the mold of versatility that will be prevalent on this team. He can be asked to guard many guys and he can use his size and strength.
When you first see Ojeleye, you quickly notice his chiseled body which is akin to a juniors physique.  The key for Ojeleye is to adjust to the speed of the game.  He didn't have bad coaching in high school or the AAU circuit, but it could have been better, so there will be the usual freshman learning curve.  Still, he is capable of guarding multiple type players and that will be of immediate value if grasps system basics.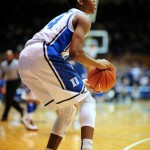 Rasheed Sulaimon
"A very talented young guy and a great kid. This will be a really big year for him. When you have a freshman year like he did, you come back but do you make the jump or do you just rest and think going to happen. He was an important part of the Team USA squad that won the Gold Medal, so he's had a good summer. He jumped right in when he came back with what we were doing . A talented kid who can play off the bounce and he's a guy wee want to move around a lot this year and he progresses as a player." Jeff Capel
As a sports reporter when I talk with Sulaimon, he's the kind of kid I would want as a parent.  Humble, yet confident in his abilities, Sulaimon can be a go to guy on this seasons team with his ability to break down his opponent off the dribble.  Sulaimon has realized it takes hard work to succeed and with a year behind him, the lessons learned from a season ago will pay dividends.
Rodney Hood
"Well, he's really talented and he's gotten a lot better since he's been here because he's worked and he's been touched by this culture. He's gotten stronger, more athletic, he's shooting and handling the ball better. At Mississippi State he was sort of a catch and shoot guy, so we were a little surprised as we went through practice at how good he is off the bounce. He's a guy who can play multiple positions and guard multiple positions, so he will be asked to do that in our system. When you come to Duke the expectations are different than most other places, so you have to learn to deal with expectations. But Hood has had three really good seniors to watch a season ago, so he's learned how to conduct his business from how they handled things," states Capel.
Rodney is a completely different player than he was at Mississippi State where he did not get the best coaching.  Duke has tried to instill confidence in Hood, who will finally be seen by fans.  What I worry about to a degree is that he has been saddled with a lot of expectations and hype, more-so than any other player on the roster.  However, this will be a hungry player and a mature one and a sure starter.  In fact, I still say Hood, Sulaimon and Parker will be the main three options on offense.  Hood has a nice mid range game, so do not expect a dominating rebounder despite his height in that he is more wing than power.
Josh Hairston
"Josh is a player who has started games for us, so he's had an important role. As a senior, he's been through early exits in the tournaments, part of big wins and has simply been through a lot. He can play a lot but we don't know for sure. He will have a role on this team," said Capel.
When Hairston and Thornton were recruited to play for Duke, it was during a time when the Blue Devils were experiencing a bit of a drought in recruiting.  They were dubbed "program kids," which means they embody what one would want out of a young man with concern to character.  Hairston will be in a position to offer leadership this coming season but how he accepts his role will be the key.
Recruiting
We all know that Jahlil Okafor and Tyus Jones will visit the Duke Campus together during the last weekend of October.  I still have mad confidence that Tyus Jones will be a Blue Devil and Okafor as well, just not at the level of Jones.   Before you reads into that too much and start a worry-fest, I feel good about both players and predict fans will be happy when the dust clears.  There is a reason the last visit is scheduled for Durham, that being I think both kids know Duke is their leader whether they say so in public or not.  At this point it would be a major upset of Jones went elsewhere and I do not buy into the worry about Kentucky one bit, even though traditional wisdom may be to never count them out.
Kavon Looney will visit the weekend when Duke is at Memphis in football and the Blue Devils seem to feel quite good about their chances here but this one still has a few things which need to fall into place.  Duke has been the highest riser of any team on his list and the staff will have Looney all to themselves and will be able to spend some serious time with his family.  The stars could be aligning themselves nicely here, so stay tuned.
The two prospects Duke is working hardest on for a visit are Myles Turner and Diamond Stone, two bigs.  Duke faces a tough battle for the service of Turner but the two like each other a lot and that could lead to a possible visit during Countdown to Craziness.  In fact, both Stone and Turner could make the event if all goes well but recruiting is liquid as are the prospects schedules, so this one needs to play out more.  Duke Assistant Nate James has been the lead on these two guys.
It's that time of year when fans hang on every little thing said, be it rumors or just speculation with recruiting and no player has had more worry connected to him more than Justise Winslow who plays his hand carefully at the game we all love to follow.  Winslow has been recently linked to a late UCLA run and even a package deal at Arizona.  The Wildcats worry me, UCLA does not.  The Bruins are late to this party while Zona has been on Winslow longer than Duke.  Still, Duke has a legitimate shot here and are very much in the race until his announcement.  Word is Winslow is feeling a little pressure about making a decision and will have a had time telling a coach no, but that too is not unusual.  No additional visits are set in stone at this time with Winslow and while I felt he was ready to pop at one time, it seems his decision could come later than anyone might like.  Still, there is reason to believe he is close and has an idea where he wants to go.  Expect another cut down on his list and his family and or Justise seems to really be concerned about making the right choice here, thus the stretch.  It's Duke or Arizona if my sources are right and they usually are.
Want a possible new name on the radar?  Henry Ellison, a 2015 corn fed prospect got a call from a Duke Assistant recently and was told they would keep an eye on him.  Some say he could really grow into a force and he can stretch the court with his ability to hit the three. [/private]