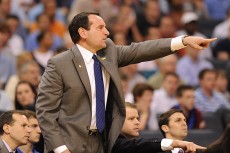 DURHAM, N.C. - Over 30 former Blue Devil basketball players, including four former greats (Mike Gminski, Christian Laettner, J.J. Redick and Jason Williams) that have had their Duke jerseys retired, will serve as team coaches this summer to headline the 10th annual K Academy, May 30 – June 3, at Duke's historic Cameron Indoor Stadium. The camp staff will also feature 14 players/coaches (Clay Buckley, Marty Clark, Chris Collins, Nate James, Greg Koubek, Laettner, Reggie Love, Eric Meek, Casey Peters, Jon Scheyer, Nolan Smith, Jason Williams, Steve Wojciechowski and Brian Zoubek) that won a National Championship at Duke.
The current Duke National Championship coaching staff of Steve Wojciechowski, Chris Collins, Jeff Capel and Nate James will join Naismith Basketball Hall of Fame head coach Mike Krzyzewski to host and coach in K Academy X - a camp for adults aged 35 and above. In addition, Duke Basketball stars from the 70's, 80's, 90's and 2000's will also coach again at America's first and top-rated college fantasy basketball camp.
The K Academy brings team-building techniques into an once-in-a-lifetime experience for the ultimate Duke or college basketball fan. Every camper will spend five days in Cameron and in the premier practice facility in the country - the Krzyzewski Center for Academic & Athletic Excellence - where they'll go from opening day tryouts to Sunday's championship tournament. Along the way the campers will play games on Coach K Court in Cameron and learn the inside scoop on Duke's four-time national championship program.
A lively social program, including a charity auction benefiting Durham's Emily Krzyzewski Center, completes the experience. All campers reside in the four-star Washington Duke Inn & Golf Course on the Duke University campus.
The enrollment tuition for the K Academy continues to be $10,000. The Academy is partially tax-deductible as profits go to the Duke Basketball Legacy Fund. The camp has limited enrollment of 88 participants - 80 playing campers and eight non-playing bench captains.
There are limited playing spots remaining, interested parties can register online at www.kacademy.com; contact the Duke Basketball Legacy Fund office at (919) 613-7501; or email Associate Director of the Legacy Fund, Rachel Curtis, at rcurtis@duaa.duke.edu.