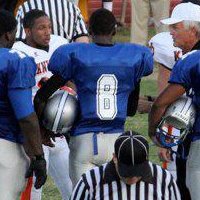 When it comes to recruiting, being the first school to offer a prospect is rarely a bad thing. After National Signing Day, the Duke coaching staff turned their full attention to identifying the top student-athletes in the class of 2013 and inviting them to campus. Breon Borders, a 6'1" 170 pound cornerback from Statesville, NC, picked up his first scholarship offer from the Blue Devils on a February 25th unofficial visit to Durham. A converted wide receiver, Borders has become a lockdown corner in the high school ranks and he features the combination of size and speed to become a playmaker at the college level.  BDN caught up with the big cornerback to discuss his interest in the Blue Devils and get an update on his recruitment. [private]
BDN: How would you describe your strengths as a player?
I'm a really tall corner, and I'm faster than people think I am. I can defend the tall receivers, I'm really good at man coverage. My advantage is I'm long.
BDN: What are you working on this offseason as you prepare for your senior year?
I'm really trying to get my weight up to 175 [pounds], and I'm trying to get my footwork better.
BDN: As you approach your college decision, what are the most important things you are looking for in a school?
I'm looking for a coaching staff that really cares about the players and a great football team, a team that really wants me.
BDN: Do you have any ideas for what you might want to study in college?
I'm still open at this point.
BDN: Where do you stand with offers and which schools are you hearing from the most?
I've got my only offer from Duke, but I'm hearing a lot from Wake [Forest], Clemson, and UNC sometimes, too.
BDN: Which schools have you had a chance to visit recently?
I've been to Duke, I've been to Clemson, UNC, Wake [Forest], NC State, ECU…and I think that's about it right there.
BDN: Are there any coaches you have started to develop a close relationship with?
I've really…I've got a good relationship with Coach Jones from Duke, he's put a lot of effort in and I feel like he really has put time into getting to know me.
BDN: Are there any other schools you plan to visit or would like to hear from?
My coach has a couple plans that I don't know about, but I would like to visit Clemson again, Wake [Forest], Duke, and ECU again.
BDN: Do you have a timeline in mind for when you plan to narrow things down or make your final decision?
My top schools are Duke, Clemson, and Wake Forest, but I'm leaning towards Duke right now. I'm probably going to make a decision, probably sometime before the season starts.
BDN: Thanks a lot, Breon, and best of luck.
Alright, thanks, you too.
[/private]