[private]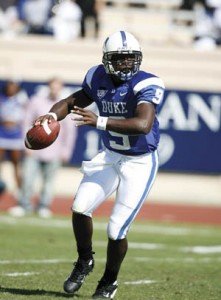 Duke Football is entering the stretch run of spring practice as they prepare for the 2009 season.  David Cutcliffe is in his second year as coach of the Blue Devils and he hopes that last season's strides will help in building a solid football program at Duke University.  Despite the shortage of bodies this spring, the atmosphere around practice prompted Cutciliffe to state, "We look like a football team."
The Duke staff returns intact, so the Blue Devils are showing the habits they learned last season early on this go round.  The Blue Devils' senior leader, Thaddeus Lewis, took the time to discuss how practices were going with the Blue Devil Nation.
Thad, you are in your second year of spring drills under Coach Cutcliffe.  Are there any differences this year?
We have a year of experience under our belt.  We know what Coach expects out of us and he will continue to pound that into us day in and day out.
What have you worked on in the off season?
I got together with the offensive team and went through the plays which helps us to get better.  We were young last year, so we did a lot of things in the off season so we would be prepared for spring and wouldn't look like a deer in the headlights.
There has been a lot of talk about the offensive line where Duke suffered some big losses and looks to rebuild.  What can you tell me about them as a unit?
The offensive line doesn't get a lot of the credit they deserve.  Those guys are working hard and getting a lot of little things corrected which helps them get better every day.   A lot of people don't know about them, but I work with those guys and they are very talented and very good.
Duke will have more depth at the tight end position this season.   What will that mean to you as a quarterback this season?

The tight end is the key to the offense.  They are the guys who can mix it up out there.  All those guys can block and catch.
What have Coach Roper and Cutcliffe talked to you about as practice has progressed?  What has their message been to you?
That I am a senior and they are looking for leadership out of me.  The biggest thing they want me to do is go out there and be consistent every day - not making the mistakes an experienced guy should make.  They want me to watch a lot of film and come back with questions in order to lead this offense and put us in the right position this year.
As a team, Duke suffered some huge losses.  Has there been anybody who has shown signs of stepping up and replacing a player like Michael Tauliliili?
We have guys like Vinnie Rey coming back and he will serve as a catalyst on the defense.  And [Vince] Oghobasse on the front line - they challenge the other guys who have a chance to play this year to work hard.  It's kind of tough to run the ball against those guys and that's what you like to see.
Are you already starting to think about Richmond [home opener]?
Definitely!  That's always in the back of your mind, but our main focus is on spring ball.  But I do remember my freshman year when they came in here and beat us 13-0.  So when you see them on the schedule, of course you think about it.  We will concentrate more on them in the summer.  Right now?  We are just working on getting our system down on both offense in defense.
Coach Cutcliffe mentioned earlier that the lack of bodies available for spring will make it difficult to do certain things ...
Well, with less players it's a lot easier for guys to cop out, but you see those guys try to go about it hard.  We get more depth with reps, so that can be an advantage.
From a quarterback's standpoint, what players have impressed you the most on the offensive end this spring?
The tight ends with guys like Danny Parker, Brett Huffman and Brandon King coming back have looked good.  All of the running backs have contributed, each and every one.  And the young wide receivers with Johnny [Williams], Austin [Kelly] ...  we have a lot of guys stepping up every time out.  I've been excited with how they are coming along.  I expected them to grasp it pretty fast, but they are doing a lot of things you wouldn't have expected right now.  We have improved as a football team this spring.[/private]