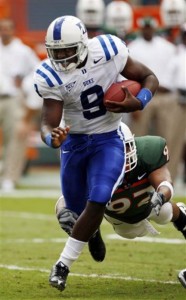 MIAMI GARDENS, Fla. - Thaddeus Lewis became Duke's all-time leading passer, but it wasn't enough as the Blue Devils fell to No. 20 Miami, 34-16, in front of 38,200 fans at Land Shark Stadium in Miami Gardens, Fla.
Duke falls to 5-6 overall and 3-4 in ACC play, while Miami improves to 8-3 overall and 5-3 in the conference.
Early in the fourth quarter, Lewis threw an eight-yard pass to Austin Kelly to move past Ben Bennett on Duke's all-time passing yardage list.  Bennett threw for 9,614 career yards from 1980-83.  With one game remaining in his collegiate career, Lewis has 9,678 yards - a total that ranks third best in ACC history trailing only N.C. State's Philip Rivers (13,484) and Florida State's Chris Weinke (9,839).
Miami scored the game's final 24 points for the win on Saturday as Duke dropped to 8-1 under head coach David Cutcliffe when leading after three quarters.  Heading into the fourth period, the Blue Devils led by three points, 16-13, before the Hurricanes scored three touchdowns to account for the final margin.
The Blue Devils claimed a 3-0 lead just over nine minutes into the contest when Will Snyderwine booted a 30-yard field goal.  The five-play, 68-yard scoring drive was set up by Vincent Rey's second interception of the year and highlighted by a 64-yard pass from Thaddeus Lewis to Donovan Varner down the right sideline.  Miami countered with a 33-yard field goal from Matt Bosher to tie the game at the 1:25 mark of the opening period.
Desmond Scott's 47-yard kickoff return set up Snyderwine's second successful field goal of the day, a 49-yard effort that pushed Duke back ahead, 6-3, with 14:50 left in the second quarter.
Miami took its first lead of the afternoon at the 4:50 mark of the second period when Jacory Harris hooked up with Tervaris Johnson for a five-yard scoring pass.  The touchdown capped a 12-play, 80-yard drive that took 4:52 off the clock.  Duke responded immediately as Lewis engineered an eight-snap, 80-yard march and hit Varner for a 24-yard touchdown with 2:17 prior to intermission.
Duke took the kickoff to start the third quarter and moved 60 yards on 10 plays for a 26-yard field goal by Snyderwine.  The kick increased the lead to 16-10 at the 11:05 mark.  The Hurricanes cut the lead in half with a 12-play, 54-yard drive that resulted in a 25-yard field goal by Bosher.
Following a Duke punt, a two-yard touchdown run by Miami's Damien Berry completed a 15-play, 90-yard drive and provided the Hurricanes with a 20-16 advantage at the 13:41 mark of the fourth quarter.  Miami extended the lead to 27-16 with a 44-yard touchdown pass from Harris to Leonard Hankerson with 7:37 remaining in the game.  Darryl Sharpton rounded out the scoring with a 73-yard interception return for a touchdown with just over six minutes left.
Lewis finished with 303 passing yards on 20-of-37 throws.  The 300-yard day is his sixth of the year and the 10th of his career to move into a tie for first place on Duke's all-time chart, matching Anthony Dilweg's 10 300-yard efforts from 1985-88.
Varner paced the Duke receiving unit with eight catches for 165 yards.
For Miami, Harris was 25-of-43 through the air for 348 yards while Berry rushed for 76 yards on 16 attempts.  Hankerson had eight grabs for 143 yards.
The Blue Devils conclude the 2009 season next Saturday at home against Wake Forest.  Kickoff at Wallace Wade Stadium is set for 12 noon and the game will be televised live by Raycom Sports.