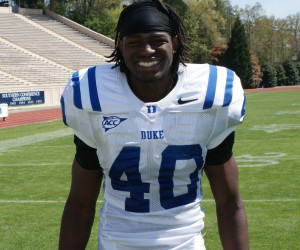 Matt Daniels will likely be the starting right safety for the Duke Blue Devils in just his second season.  Daniels took the time to talk with Blue Devil Nation and we'd like to share his thoughts with you.
What is different when preparing for the 2009 football season?
This year I will be more of a leader because last season we had more seniors.  So, I feel like I have to step up and be a leader.  I'm just going to bring a lot of effort and energy and keep everybody on the field hyped and ready to play.
With the losses in the secondary, do you have people ready to step up?
Oh yeah, big time.  We have Jordan Bias coming in, a redshirt freshman.  He's been making a lot of plays in practice and the spring game.  We look for a lot of big things out of him.   Then there's Catron Gainey, he's doing good.  We are a little weak at cornerback, Leon [Wright], he's hurt.  Since we had so many people hurt, a lot of guys are starting to step up.
You've seen the offense this spring and you saw last season's.  What are your thoughts on the differences?
Last year we lost a lot of key players, we lost Eron Riley, but Austin Kelly was playing slot last year and he's really making strides.  And we have Donovan Varner coming in and, oh, man, with those two it's something serious.  And we have Brandon King coming back.  He's a key component that we missed last year and Huff.
... and the toughest guy to tackle is?
Aw man, Patrick Kurunwune ... man, he runs hard with those big thighs and keeps his feet churning.  I really like the way he runs and he keeps his path low.
... the toughest to cover?
Aw man, it's between Johnny [Williams] and Varner [Donovan].  Don is like real quick, bam, bam, bam, he'll give you a head fake.  Johnny, on the other hand, he'll beat you off the line and then there is AK [Austin Kelly], he's real smooth, so it's hard to tell which one is the hardest to cover.
You guys are really young.  You are really young and already playing.  Do you see this as a positive down the road?
I definitely think it's a positive because the more young people we have, the more it's going to be like a group and we'll keep things going.  At the same time, we have some key seniors like Vinnie Rey who we really look up to, but the young bucks are really starting to come along and the coaches are showing us what it means to be a part of Duke Football.