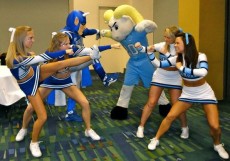 It's gameday for Duke at North Carolina and if one lives in the Triangle area almost everywhere you go or look, somebody is wearing a shade of blue.  When the Blue Devils and Tar Heels come together, it's as if time stops until games end and once that happens one fanbase is extremely elated while the other deals with a tough couple of days.
Whether one walks into a convenience store, sits down to eat in a restaurant, works out in a gym, takes the kids to kindergarten, somebody is likely to ask you with often times a southern drawl, "Who you got tonight?" followed by a little smack talk as they bait you into conversation.  Some fans even worry themselves into a frenzy making one wonder if their should be a new addition to the DSMV manual.  Work productivity goes way down and sports bars make a killing.
Fans gather in droves to watch the game in a mix of both dark and light blue.  Others couldn't watch a game with the other side if they had to.  Many will put on their lucky charms and colors, some will go through rituals.  You can almost hear the pacing in households afar once the game starts and all hang on every single play, every call and ride a roller coaster of emotion that leaves them drenched in sweat from the stress by nights end. 
A bit later, I will meet with a co worker to eat and then head to Chapel Hill to the Dean Dome which is mere minutes from Duke University where car flags will be a flapping and the color goes to a lighter hue as you approach.  Once checked in, it's off to the media area for me, setting up a good two hours in advance and then talking with the throng of reporters from both far and near as the teams begin to warm up in the background.  And while the media cannot cheer on press row and must remain professional and objectionable, you can read their faces and clearly see who they're for and trust me, eveybody has a dog in this race if you are local media. 
Anyhow, here are a bunch of random thoughts going into tonight's game -
UNC favored by 6 points
When the line came out it caused several folks to raise an eyebrow.  Every single media person I have spoken to this week thinks UNC will win this game easily and or that the line is too low.  Many feel they'll go double digits on Duke and never look back and local bookies have added points to that total to try and keep money coming in on Duke.  I in no way advocate betting and only speak of this for entertainment purposes and trust me gambling has a dark side, so beware.  And while I am at it, if you are goaded into a sucker bet by the opposing fans and friends, it's your own fault.  If you want to take the chance of wearing the other teams colors for a week at work, go right ahead;)
Numbers, stats and more numbers
Everywhere you look there are people throwing out numbers and they prove to be quite interesting.  Duke has won 20 of the last 30 against UNC, Duke is even at the Dean Dome ... so on.  The truth of the matter though, is that when these two teams get together, you can throw conventional wisdom out the window.  But while I seem to be making fun of the numbers, I still read them and here is a must read article from my friend, Al Featherston at Duke Basketball Report that is well worth your time.
The biggest advantage for UNC is ...
It is not their front court of Barnes, Henson and Zeller.  It is not Kendall Marshall, the league leader in assists.  It is their experience.   The aforementioned front line all returned for UNC when all of them could have gone in the first round in the NBA draft.  These guys are battle tested now and for the most part the Tar Heels are an old team.   The Tar Heels fast break finishes a close second in my book and Duke must control the glass enough against the leagues best rebounding team to win.
Who is ready to step up for Duke?
Is there a Fred Lind or Reggie Love in the group?  Lind, then a bench warmer, went off against UNC in the sixties and has become a legend for his performance when Duke starting center Mike Lewis fouled out.  Love, a former Barrack Obama aide was a walk on from the football team that filled in when Duke had injuries to Carlos Boozer, outplaying his UNC opponent which helped Duke close out the Heels in their backyard.  For Duke to win tonight, it will likely take a player or players stepping up their game to a beyond normal level.
The last time out ...
Duke rocked UNC at the ACC Tournament and proceeded to cut the nets.  But that team had Kyle Singler and Nolan Smith.  Nolan scored 20 plus points in that game and dished out 10 assists.  This years Duke team is averaging just under 13 assists per contest combined.  Again, I point to experience and you can bet they'll miss those dimes and Smittys' on ball defense.  Remembering that loss could serve a a plus side intangible for the Tar Heels, who will be hell bent on revenge.
Plumlees have had success
Duke will need to hit the boards as a team tonight but I feel many are underestimating the abilities of Team Plumlee.  Both Mason and Miles have had success against the UNC front court but that help side defense from Singler is missing and Kelly and others will have to fill that role.  The key for Duke will be to keep Mason out of early foul trouble and to adjust as a team to the way the game will be called.
Young Devils will need to step up
This will be Austin Rivers first trip to Chapel Hill and freshman past, not matter how good they are have taken a beating at times in this series.  Rivers will be a focal point for the Tar Heels defense and seeing if he can rise past that attention will be interesting.  Quinn Cook will also need to be calm cool and collected and that will not be easy in a hostile environment.  Here is ESPN on how freshman will play key roles in the game.
A Duke loss will add pressure to the team
If Duke loses to UNC this evening and Florida State and N.C. State win along with Miami and Virginia which is all likely to happen, the Blue Devils will find themselves in a three way tie for 4th place in the ACC.  That in turn will make my job hard as much of the fan base will freak out on the message boards and quite frankly I do not look forward to that happening.  So, be forewarned that this loss could be devastating but keep your composure please and be a good and supportive fan.  Also, Duke would then face an N.C State team in Cameron this weekend that is a half game ahead in the standings.  Funny how big that game has suddenly become and getting that 20th win can get harder and harder until a victory is achieved.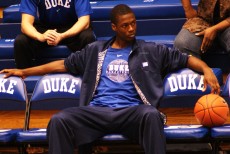 That darn Harry guy ...
Harrison Barnes spurned Duke at the midnight hour and then chose UNC but he didn't exactly do it in what many would consider proper decorum.  His clunky Skype lives as a reminder to other stars not to go that route and few have done so since that time.  Interestingly, Barnes immediately starting loathing Duke after his decision and he is perhaps one of the more detested Tar Heels for Blue Devil fans.  But Barnes leads his team in scoring and the talk in media rooms is if the Tar Heels will get four players on first team All ACC.  Barnes is a huge matchup problem for Duke and any other team and he took a mild shot over the bow as he mentioned that Kyle Singler was gone and that he'd gladly take shorter players to the rack.
On paper it looks like a UNC win
Everything points to a UNC victory in paper.  Duke has lost two of their last three conference games in Cameron and Krzyzewski has been looking for upper classmen to step up.  UNC has up to four 1st team All ACC players starting. That game is in Chapel Hill and the Blue Devils seem to still be coming together as a team.  But you know what?  Duke has a chance any time they step on the court.  Duke has been beat down of late but if the team plays together anything can happen and that's why we watch the games.  My objectionable pick would be for the Tar Heels to win but my heart says Duke can pull off a shocker and make all the aforementioned worries go to the wayside.
Don't hold me to all the numbers mentioned for everything here was off the top of my head and just random thoughts before tonight's game.  BDN will be in the house to bring you live tweets and post game chats with the players, so stay tuned for our usual wall to wall coverage.  And yes, I am homer media, so I can get away with saying, "GTHC, GTH!"  It should be a lot of fun as the best rivalry in all sports is once again upon us.