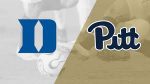 The Duke Blue Devils host the Pitt Panthers on Durham Day this Saturday evening at 8:00 on Brooks Field in Wallace Wade Stadium.  Make no mistake, this is a critical game for both teams, so we can expect a physical and spirited match up.
About Pitt
The Pitt Panthers are the defending Coastal Division champions and they have plenty of weapons on both sides of the ball.  The Panthers have defeated Duke in four consecutive outings and even the last Duke win came in overtime.
The Panthers opened their season with a loss to Virginia and played highly ranked Penn State to a one-score game on the road.  They rebounded well to win three games, including a win over Central Florida, a team which has been a power the last few years..
Last week, they held out a bunch of starters in a win over Delaware.  Pitt was without starting quarterback Kenny Picket last week.  Panthers coach Pat Narduzzi confirmed on Thursday that he would play.  In short, Pitt took advantage of a lesser opponent to rest their key players for this week's game.
Pitt has big receivers which will test Duke more than any team since Alabama.  They also have some veterans on the defensive side of the ball.  They are a solid football team, right down to their special teams which really comes after opposing punters.
A Panther strength is their pass rush where they have a whopping 24 sacks this season.  That is the 2nd most in the entire nation and a reason they are 3-2 against a tough early-season schedule.
Narduzzi has a way of imparting his confidence in his team.  A defensive guy, he harped all week on how many yards they gave up against Delaware.  But make no mistake, he is confident.  While he talks respect of Duke there seem to be an underlying sarcasm in some of his statements
The Pitt head man all but gave Duke some bulletin board material yesterday during a media session.  He basically said his team played a bad game against Virginia and they wanted another shot after saying his team would be well prepared for Duke watching the film all week.  The kicker was when he said I wish we played Virginia at 8:00 and Duke at noon.  I guess he thinks they could survive Duke and still have enough left over for Virginia.
Anyhow, Pitt is cocky, talented, always physical and confident.
About Duke
The Blue Devils must put a big program win over Virginia Tech behind them.  The performance was stellar, but Pitt is an upgrade in competition.
Duke comes into the game 1-0 in league lay and 3-1 overall and they hope to protect their home field.   The hope is to have some local residents in the stand for Durham Day, but a negative intangible is that the students are on Fall break.
Quintin Harris has had a great season to date, but he will face a vicious rush.  It is encouraging that Duke has allowed a single sack on the season.
The Duke secondary came up with their first interception of the season against the Hokies.  They will be tested in this game, so perhaps the Blue Devils rush can get to the Pitt quarterback.  The lack of finishing plays when in position has bugged Duke head coach David Cutcliffe.
Duke lost Brittain Brown for the season this past week, but overall they are pretty healthy.  With a tough slate this season, each game is critical for Duke bowl aspirations.
What will happen
My prediction last week was not as close as previous games but I am 4-0 straight up on the season and 4-0 against the spread.  Duke is currently a slight 3.5 favorite in this game which seems to infuriate the Panthers who have quite simply had Duke's number.
We know we will get some football weather and both teams will have to deal with a late 8:00 kickoff.  Pitt does not want to drop to 0-2 in the league and Duke wants to make a run at the Coastal, so they need a win.
Which team can play four full quarters of football?  Duke has fallen short in the area against Pitt, but this is a new opportunity.  I expect a very competitive and physical game.  With these two, points can come in droves as witnessed by past scores, but on paper, both defenses look pretty good.
At some point, Duke has to get out from under the Pitt shadow, right?  Well, it will not be easy but I am counting on Duke rising to the occasion.  To do so, they need a quicker start than a week ago and remain aggressive without too many gambles.
The pick here is Duke 31 Pitt 24