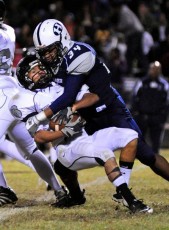 Duke kicked off the 2012 recruiting season this past weekend with the first of two Junior Days in Durham. Over 100 prospects made the trip to campus and most came away impressed with the Blue Devil program. BDN kicks off our coverage of the class of 2012 with a series of interviews with the weekend's visitors.
Jamal Marcus is a 6'2" 225 pound defensive line prospect from Durham's Hillside High School, the same program that produced current Duke players Desmond Scott, Corey Gattis, and Brandon Watkins. After winning the Defensive MVP Award at last summer's Nike camp in Blacksburg, the standout defensive end went on to lead Hillside to a North Carolina State Championship in the fall. His performance on the field has drawn interest from coaches around the country, but the junior stayed home last weekend to visit Duke for Junior Day. Highlights from Jamal's junior year can be viewed here.
BDN: Can you start off by describing the strengths and weaknesses of your game for someone who hasn't had a chance to see you play?
My strength is mostly my speed and my athleticism. My strengths on the field are really my speed and I want to win bad. So that's my strength, too, my desire to win.
BDN: What are some of the things you've been working on this offseason?
My goal is basically to put on some more weight, put on some more pounds. Get faster, help get my team better. I want to go for an undefeated season. So basically get faster, get bigger, get better, and get my teammates better.
BDN: What are the most important things you are looking for in a college?
I'm looking for good team chemistry. A place where I can feel like family at. A place that really wants to win.
BDN: What schools have you recently heard from? Who was the first school to contact you?
We got Oregon, you got Alabama, you got Nebraska, you got [North] Carolina, you got [NC] State, you got ECU. A lot of schools right now, pretty much everybody in North Carolina. And a lot of schools right now and my options are open right now. I don't know where I want to go to right now.
BDN: Which schools have you had a chance to visit so far? Were there any schools you came away particularly impressed with?
I visited Duke, ECU, NC State, North Carolina, and Virginia Tech. I liked all of them. When I went to ECU it felt like a family down there, but when I went to Duke, there's a lot of opportunities that can be made outside of football, as well. So…I like a lot of schools right now at this moment.
BDN: Do you have any plans for other visits this spring or summer?
Well, I'm going to the Wake Forest Junior Day next week, I think. And the [North[ Carolina Junior Day after that.
BDN: It's still very early in the process, but ideally, when would you like to make your college decision?
I don't know. I'll probably wait and see the best school that fits me. I'll probably wait until my season's over to find the school that best fits me.
BDN: Is there anything else you think is important for ACC football fans to know about you?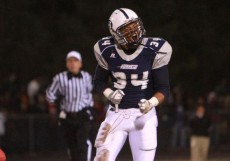 I want people to know I have a desire to win and a desire to be the best. I just want to be the best, you know, desire to win.
BDN: Thanks a lot, Jamal and best of luck to you.
You too, bye.