The Duke Men's Basketball staff is in route to several locations today where they'll evaluate the countries top prospects.  Coach Nate James will board a flight to Germany this afternoon where he will follow Team USA.  His main focus will be on Quinn Cook, a PG prospect which you have surely heard a lot of lately.  Sources say that Krzyzewski likes what he has seen of Cook who has yet to be tendered an official offer but that could change in the coming weeks.
Coach Krzyzewski and Chris Collins are headed to Indianapolis for the Adidas Nations event which starts tomorrow.  There, they will focus in on several different prospects in an effort to fine tune their targets list.  That list will begin to take shape quickly and probably solidify by the time the AAU National finish up.  The pair will then travel to [private] Akron for the LeBron James Skills Academy and be a part of media mania surrounding James and his pending decision.  Andre is already reporting a slew of media outlets hanging out which in short, means a circus atmosphere of fun.  Well, hopefully, fun.
The reason for the surge in interest with Quinn Cook is that Duke expects a mass exodus in that they feel this is a pretty good team coming this fall.  Singler and Smith will obviously go and they are expecting freshman Kyrie Irving to as well.  Duke feels Irving could be a lottery pick.  Also on the watch list to go pro will be Mason Plumlee.
We hinted to you that our feelings on Marshall Plumlee in past updates .  The Duke brothers Plumlee of  Mason and Miles were honored in me state for being a part of a national championship team.  We will elaborate more once we make the appropriate contacts with concern to Marshall.  The Plumlees are scheduled to return to Durham and participate in the NC Pro Am likely making it by Thursday at the latest.  We have confirmed that you will see many Duke players at the event starting this week.  Back to Marshall, Duke envisions him as a post player or center and with the aforementioned expected exodus of players to the pro's, scholarships should still be available for another player if necessary.
As I have said, Andrew Slater will be on the scene and he will check out Marshall in Indy.  For the record,Plumlee was invited to the LeBron James Skills Academy but Adidas needed their best players.  Coaches will turn out for the event tomorrow and we have already received reports that Eric Gordon is making the rounds.  The coaches can check out the James camp on July the 7th which as we have already mentioned will.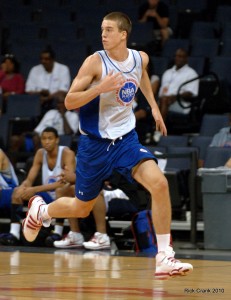 One of the first names that come forward as being a possibility is none other than Quincy Miller, the outstanding in state prospect who will play alongside Deuce Bello this season.  They more than realize Miller will take it down to the last possible day, but they'll stick around for the ride.  Miller would simply be the icing on the cake, a luxury, but Duke is in no way tossing all their eggs in Millers basket.  Speaking of Deuce Bello, he still lists Duke and we will have a short interview up with him shortly.  James is the lead assistant for the ultra athletic Bello who rose in most of the prospect rankings.
Duke will have 10 on scholarship this year and they expect to lose at least 4, so up to  7 scholarships are  available.  Duke would love to fill a couple of those with Shabazz Muhammad, Alex Murphy and Kaleb Tarczewski from the class of 2012.  Duke will continue to recruit and evaluate these kids monitoring them closely.
Okay, everybody is always asking about Austin Rivers and all I can say is little has changed.  Rivers is expected to give his pledge soon and ideally before the Duke staff leaves the country in August for Team USA duties.  All the signs are pointing to this being done by the time the AAU National roll around where the event would feature Michael Gbinije, Tyler Adams and of course Rivers.  Adams recent visit to Duke went very well and he has done everything they've asked of him to date.  The staff is also pleased with the progress of Gbinije. 
Looking ahead, the AAU Nationals in Orlando will have Michael Gbinije, Rivers, Adams... All likely commits at that time, another hint there minions.  Vegas will be loaded with Shabazz Muhammad, Marshall Plumlee, Alex Murphy, Kaleb Tarczewski and many more.
I've pretty much mentioned Duke's recruiting priorities but again, this list could change and you know the names we've mentioned here before which could rise to the top.  The Duke staff will be at all of the major events and there schedule for the latter part of July will become clear as duties with Team USA are worked out.  All in all it's an exciting time for basketball recruiting and we think you will see why you joined BDN Premium when comparing our coverage in the coming months.  Discuss this article on the premium message board where more tidbits await you including some updates from Andrew on the recruiting trail.  If you are a member having trouble accessing the board, e-mail me at watzonebdp@gmail.com.  Please only e-mail me if you have a problem with the message board at this address. Remember, copy and pasting or sharing this via emails and other premiums boards PM system is a violation of membership agreement and those not honoring that will be banned.  I know moist of you are not a part of that but please recognize that pilfering information is in effect stealing.[/private]