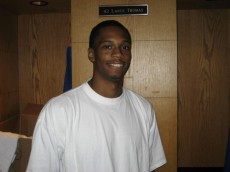 Duke (13-1) takes to the road for their first ACC road game of the year against Georgia Tech (11-3) in Atlanta. Duke is looking for a 2-0 ACC start after thumping Clemson 74-53 in their conference opener at home, while Georgia Tech is looking to even their conference record at 1-1 after dropping their conference opener to Florida State 66-59 at home.
Georgia Tech is ranked #17 in the ESPN/USA Today Poll and #20 in the AP Top 25. Duke is #5 in both polls. The Yellow Jackets are coming off a 73-66 loss to in-state rival Georgia, while in their most recent game, Duke downed Iowa State 86-65 at the United Center in Chicago.
Duke and Georgia Tech have had one common opponent on the season in the Charlotte 49ers. Duke defeated Charlotte 101-59 in Cameron Indoor Stadium, while Georgia Tech won 76-67 in Charlotte.
The Yellow Jackets will be the third straight test for Duke's frontcourt. Duke's big men passed the first two tests with flying colors in wins over Clemson and Iowa State who both feature quality inside players in Trevor Booker and Craig Brackins. The difference in this game is Georgia Tech has three talented inside players in Gani Lawal, Derrick Favors, and Zachery Peacock.
Junior Gani Lawal (6'9" 235) averages 15.3 points and 9.4 rebounds per game. He is 10th in the ACC is scoring and 3rd in rebounds. Lawal has the 5th best field goal percentage at 55.5 percent.
Freshman Derrick Favors (6'10" 245) averages 12.1 points and 8.8 rebounds per game. Favors is tied for 4th in the ACC in rebounds. In a recent article at Basketball Prospectus, Favors was ranked as the 7th best freshman in the nation.
Senior Zachery Peacock (6'8" 235) averages 10 points and 4.6 rebounds off the bench for the Yellow Jackets. Peacock has the ability to step out to the perimeter and knock down jump shots. He is making 47.6 percent of his 3-point attempts on the season.
While Duke leads the ACC in Assists/Turnover ratio at 1.5, Georgia Tech is 11th at .9. The Yellow Jackets turn the ball over an average of 16.6 times per game. In their three losses, the Yellow Jackets turned the ball over 20.3 times per game. Georgia Tech's backcourt ball handling is a liability.
Sophomore Iman Shumpert (6'5" 205) is back after missing six games with a knee injury. He averages 8.4 points and 3.8 assists per game, but also turns the ball over 3.3 times per contest. In the loss to Georgia, Shumpert recorded one assist and five turnovers.
Freshman Mfon Udofia (6'2" 185) and Senior D'Andre Bell (6'6" 220) are Georgia Tech's fourth and fifth starters. Udofia averages10.8 points, 2.9 assists, and 2.6 turnovers per game. Bell averages 5.9 points, 2.9 rebounds, 1.8 assists, and 1.6 turnovers per game.
Coach Paul Hewitt employs a deep rotation with nine players averaging double digit minutes and no player seeing 30 minutes of action per game. Maurice Miller (6'2" 190), Glen Rice, Jr. (6'5" 195), and Brian Oliver (6'6" 220) make up the balance of the Yellow Jackets double digit players.
The keys to the game will be:
1. Defensive rebounding. Duke must keep Georgia Tech off the offensive glass and prevent second chance points.
2. Turnovers. With Georgia Tech's suspect ball handling, look for Nolan Smith to apply pressure on the Yellow Jackets main ball handler. This is a game where Duke may look to trap the ball as it is brought across the half court line. Lance Thomas could be a key player if Duke opts to run a half court trap defense. The best way to neutralize Lawal and Favors down low is to prevent them from getting it down low.
3. Outside shooting. Georgia Tech's strength is their inside play so look for Duke to try and open up the inside by knocking down the long ball. Duke is leading the ACC in 3 point field goal percentage at 42.6 percent and second in the league in 3 point field goals made with 8.6 per game.
This Georgia Tech squad is very talented and a better team than the one which finished last in the ACC last season. However, they are not good enough to beat the Blue Devils. This will be a tough match-up and winning on the road in conference is never an easy task, but the Blue Devils should leave Atlanta with an eight to ten point victory in the books.