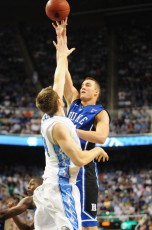 The hype is now in full swing for the big showdown between Duke and North Carolina, rivals with a mere eight miles of separation.  ESPN is firmly embedded on the Duke campus where they'll begin to broaadcast live from today with the infamous tent city as the backdrop.  A stroll through the Gothic Wonderland shows students preparing for the event with live bands. brew cans popping and some last minute studying to free up their time.  With a Duke win, benches will burn, celebrations will last until the following morning and another Duke team will be crowned champion.  But North Carolina stands in the way and Duke must take care of the business at hand where history shows us that can sometimes be a difficult task.
There is no place in the country where two behemoth's exist like Duke and North Carolina and everywhere you go in the region, fans are proudly wearing their colors.  It's not unusual for a total stranger to start trash talking you from behind when in line to pay for gas or obtain a snack in any store.  Horns honk  in approval as cars pass with flags or their might be a finger stuck in the air from the more fanatical ones as they pass and the stakes could not be higher in this one as both teams are vying for the regular season championship.
One team will go or stay at home with their heads held high while the other will feel like they've been hit in the chest with a sledgehammer with a loss.  But in reality, win or lose, both teams will benefit from playing this game in that playing a top level opponent will be the best preparation for March Madness which will soon begin in earnest as conference tournaments get under way and folks start to study all the happenings in order to soon fill out their brackets.
It's both the best and busiest time of year for media and they will soon converge on Cameron in droves, each seeking a story. Each member will be proud to have the opportunity to to simply cover a game of this magnitude in a legendary venue known as Cameron Indoor Stadium, a facility that has limited seating availability to handle a thousand or better requests.
At some point this evening, Coach Mike Krzyzewski will address the students and this is an annual thing, but it is for them and not the general public so please respect that.  And then there is the much anticipated private screening debut of the TBS produced documentary that Grant Hill and Christian Laettner co produced about the Back to Back Championship seasons which will be shown in Cameron.
There is even a managers game between Duke and UNC which goes off at 10:00 and these guys take this affair seriously.  Duke will be looking for the next Casey Peters to lead them to a win and his play landed him on the team a year later.  And there will of course be live music and revelry at every turn as well.
The aforementioned ESPN GameDay will have a presentation in the morning starting at 10:00 and it is open to the public.  And the atmosphere will be an all day affair with the most intense anticipation taking over many.   As game time draws near, the line monitors will start to do their thing and just before that Cameron Crazies will be putting on their royal blue war paint and who knows, we may even see an appearance by the infamous speedo guy.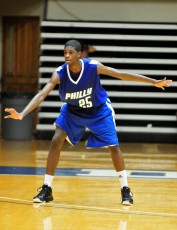 The students are allowed in Cameron an hour earlier than the general public and they'll be in their best form of the season and packed in like sardines for this one.  The ESPN cameras will stroll uo and down as they whip the Crazies into a frenzy.  When North Carolina comes out, they will be greeted and razzed non stop and many will wear ear phones to avoid the chatter, like Harrison Barnes did last season.
Barnes of course, was at the center of a heated recruiting battle and many on the Duke side felt he led them on, so he gets special attention.  And they will surely razz Tyler Zeller, but be careful there because he is the favorite to win player of the year in the conference by many.  And then there is John Henson, who has a sister on the Duke womens team which is playing in the ACC Tournament in Greensboro.
The atmosphere is beyond description in that there is never a moment of silence and the roars can be deafening in this one.  There is an electricity in the air like no other game in America and the intensity can be felt as you walk through the packed to the brim stadium.  It is nothing less than fever pitch pandemonium in every way.
But what happens when the ball is tossed in the air at tip off?  Well, there will be a battle of two proud, storied basketball programs.  Watching Roy Williams and Coach Mike Krzyzewski stroll the sidelines is a view onto itself as is the many happenings all around.  Celebrities will be present and fans hang on every single play, pass or anything that can happen on the court.  Each turnover, dunk or tip of the ball brings about intense emotion, all seeming pertinent to the outcome.  It is basically one heck of a roller coaster ride that will leave you drenched in sweat as fans go through a myriad of superstitious ways.
What you will see is Duke trying to keep up with North Carolina on the boards and slow their transition game while UNC will try to push Duke off the three point line and get key bigs into early foul trouble.  There will be manic swings to where no lead is comfortable and it will all be left on the court by both sides.
Quite frankly, this game is too close to call, a virtual toss up in many ways and the Tar Heels will be hell bent on revenge after Austin Rivers three point dagger in Chapel Hill.  But will they be too pumped up?  Or for that matter, will Duke?  Staying calm before this game is something both coaches have to address and it may be tougher for Duke in that they are the younger team.
But Duke has had their doubters all season long, yet they've earned their way to a great opportunity and a 26-4 record with some solid NCAA resume building wins.  North Carolina was the overlwheming pick to not only win the ACC but were rated number one in the nation as well and they have suffered an injury to Dexter Strickland, but there starting lineup up has no less than three All ACC players on the team, so not too maybe will feel sorry for them.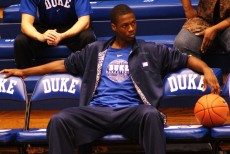 Win  or lose, both teams will benefit from this game and know what to fine tune and work on for the tournaments.  Win or lose for Duke and they've had a great season with some huge wins.  Win or lose, Miles Plumlee will address the Cameron Crazies and fans after the game for his final time in a Duke uniform and win or lose fans should give him a warm aduraion and walk away with their head held high with pride.
It's not the end of the world when you come up on the short end in this game, but it sure feels like it to those with a vested interest and that's what makes this game special.  Two winners will take to the court and two winners will walk off the court and that's all  there is to it, but being homer media, I sure hope that Miles goes off in style but no matter what I am proud of these Blue Devils win or lose, as you should be as well.
Let the game begin!