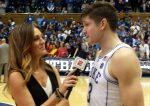 The Duke Blue Devils played their best forty minutes of basketball this season.  The result was an impressive 74-52 ACC win over Virginia Tech.  The win sets up a situation where the (9-4 ACC, 21-5 overall) Blue Devils can move into second place with a win at Clemson this weekend.
Duke played zone the entire contest and more importantly they talked to one another on the defensive end.  "We stress talk.  The system we try to teach is offense, defense and communication.  But defensively, especially in zone, when you are talking you will be wider," said Krzyzewski.
The Duke coach also acknowledged it was his teams best defensive game of the season.  The Blue Devils helped themselves after a half time adjustment where the Hokies had nine turnovers after just one at the break.
Grayson Allen led Duke with 25 points and was the kind of leader the staff envisioned for Duke tonight.  "He's our leader.  We've had him off the ball a lot, so he has tried to lead from there but the ball is not in his hands.  With the ball in his hands he can make plays and call plays and is in more command, said Krzyzewski.
You can expect the strategy of Allen having the ball in his hands more to continue for Krzyzewski acknowledged it has helped the team in their last two outings.
All of the Duke players Blue Devil Nation spoke with after the game said this was their best 40 minute effort of the season.  And all of them had things to say about their communication in a zone defense that held a potent Hokies team to just 52 points.
Gary Trent Jr. added 19 points for Duke.  He was joined by Revon Duval (10 points) and Wendell Carter Jr. (13 points and 13 rebounds) as double figure scorers.
Duke started Marques Bolden (2 blocked shots) in the first half but opted for Javin DeLaurier in the second half.  DeLarurier played with energy and went 3 for 3 from the field and was on the end of some outstanding passes.  Those scores helped Duke gain continued energy in their victory.
The Blue Devils also scored 18 second chance points and tallied seven steals in the game to just one for the Hokies.  Duke held a monster advantage on the boards with a 36-19 advantage despite their leading scorer and rebounder in Marvin Bagley III being sidelined with an injury.
Duke can take over sole possession of 2nd place in the ACC with a win at Clemson this Sunday.  That game tips off at 1:00 and will be televised by the ACC Network.