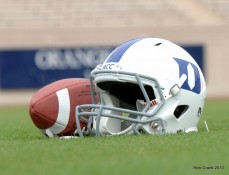 Blue Devil Nation starts this week's review of high school gridiron action in Columbia, South Carolina, where Heathwood Hall Episcopal defeated Laurence Manning Academy 12-9 in overtime. Lineman Gabe Brandner spoke to Blue Devil Nation about the game and stated, "It went into overtime at 6 to 6. We held them to a field goal then we scored a touchdown - the final was 12-9. We rushed for over 200 yards again and I had 10 tackles."
In California, [private] wide receiver Darren Andrews demonstrated big play skills as Bishop Amat defeated Charter Oak 30-14. Andrews returned the opening kickoff 85 yards for a touchdown, but the play was negated by a personal foul penalty. After Charter Oak scored to go up 7-0, Andrews returned the ensuing kickoff 88 yards for a touchdown. This time the play counted.
Andrews also caught two passes on 3rd down as Bishop Amat built a 30-7 halftime lead. Unfortunately, Andrews was ejected from the game toward the end of the first half due to a scuffle in the end zone with a Charter Oak player.
Moving over to Norco, running back Joseph Ajeigbe rushed for 231 yards and two touchdowns on 14 carries in a 54-33 victory over Rancho Cucamonga Los Osos.
In Florida, quarterback T.J. Douglas completed 10 of 20 passes, but for only 55 yards as Ft. Myers struggled to mount sustained drives in a 27-0 victory over Cypress Lake. Video clip and a game recap is located here.
Also in Ft. Myers, Dunbar lost to Riverdale 24-10 as wide receiver Johnell Barnes was limited to two catches for 36 yards. Riverdale's sophomore cornerback Ryan Pulley played an excellent game in a one-on-one matchup against Barnes.
Up in Jacksonville, quarterback Parker Boehme and Sandalwood dropped a 13-7 decision to Trinity Christian. Boehme had a tough night against Trinity's aggressive blitz package, completing only 3 of 16 passes for 24 yards with one interception.
In Marietta, GA, The Walker School and defensive tackle Mike Ramsay remained undefeated with a 56-6 pounding of Southwest Atlanta Christian Academy. [/private]