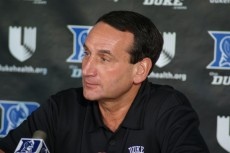 After leading Team USA to consecutive Olympic gold medals, Coach Mike Krzyzewski, along with assistant coaches Chris Collins and Steve Wojociechowski will return home to Durham at approximately 5:30 PM today, arriving at Terminal 2.
It should be easy to write about Coach K and his career, right? Well, it isn't. The problem with writing about Coach Krzyzewski and his vast and varied  accomplishments is the sheer volume of them. And this Duke beat guy has seen them all, from the day in 1980 the relative unknown was first introduced as the next coach of Duke Basketball to his righting the ship for the national program and leading our country to those consecutive gold medals.
I cannot even begin to list all the successes he has enjoyed in between, be it all the thrilling victories on the court -- he does have the most wins in the history of college basketball and four national championships --  or all that I have seen him do behind the scenes as a steward for the game of basketball, not to mention the genuine caring he has for his fellow human beings.
Frankly, my head swims when I go to beat out words trying to capture this man, for his career is still fluid, still a work in progress, and that means the train keeps a-rolling. That roll has been nothing short of amazing, and it's a ride I feel fortunate in having shared. While I didn't go to London to cover his latest golden achievement, I was there in spirit, and the tension I felt was due to my so wanting him to succeed.
Coach K is more than just the Duke coach now. He's the man who changed the culture of a USA Basketball program that, frankly, was struggling. He's the coach that got rich and famous athletes to put their substantial egos aside and come together for a greater cause, that being the red, white and blue. He's a coach that has acted as an ambassador for the game, challenging silly rules and seeking constant betterment of the game he loves.
If Mr. Naismith himself were alive today, he'd have been proud of what Coach K has given back to the game he created. Even one of the most famous coaches ever to grace the hardwood, his one time rival Dean Smith, the legendary coach of North Carolina said, "There is nobody who can connect with the players better than Coach K."
When Jerry Conalgelo went searching for the right coach to lead USA Basketball back to its spot atop the basketball world, he made the call to Krzyzewski. The coach responded, in his words almost jumping through the phone for the opportunity. There was never a second thought for Krzyzewski, who is a patriot in every sense of the word. Nothing, not even Duke Basketball, would keep him from serving his country.  At the time, Krzyzewski was an extremely experienced and accomplished college coach, but he quickly developed relationships with all the nation's top players, and the rest is history.
My vantage from Blue Devil Nation has provided me an opportunity to see many sides of Krzyzewski over the years, and to learn many lessons.  I have rarely missed a chance to talk with him when that time presented itself. I have many stories I will share one day when the time is right, but one thing the Duke head man has taught me is to not bask in the accomplishments to date, for the story has yet to be finished.
True to his word, when he is asked to reflect on his records and achievements, Coach Krzyzewski will quickly deflect the question, and for good reason. He is not a man that wants to rest on his laurels. He's a man who still has plenty of hunger and love for the game of basketball. Even now, somewhere over the Atlantic on his flight back to the Triangle, Coach is likely to have been charting out recruiting plans with his assistants, while reviewing his 2012-13 roster and preparing for fall practice.
And that's the beauty of it all to his fans, be they fans of the Blue Devils or of the U.S.A., or both.  Krzyzewski is not finished.