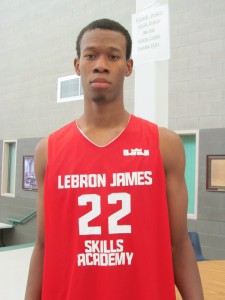 Blue Devil Nation was the first to have an exclusive one on one interview with Rodney Hood after he transferred to Duke from Mississippi State.  This interview ran for our BDN Premium members in early July and we are now opening the article up for the public to give you an idea of the articles you will find in our extended subscription service.  Enjoy getting to Rodney Hood -
In early April, Rodney Hood announced he would transfer from Mississippi State after his freshman season. It was a tumultuous year, one in which Hood, along with recent NBA lottery picks Anthony Davis, Michael Kidd-Gilchrist, and Brad Beal, earned SEC All-Freshman honors, but which also ended with his Bulldogs getting knocked out by UMass in the opening round of the NIT.
With Hood looking for a fresh start, Duke, a program that had recruited the former McDonald's All-American in high school, quickly rose to the top of his new list. In early June, the Meridien, Mississippi native made the journey up to Durham to visit Duke and to meet face-to-face with the coaches. Basketball was the one constant throughout the visit, as Rodney enjoyed hanging with his prospective teammates -- eating, talking, and of course playing ball.  Hood also was impressed by the refreshing candidness of Coach Mike Krzyzewski, who watched Hood's game footage at Mississippi State with him. He pointed out things that they could work to improve upon, and also reviewed footage of Grant Hill playing at Duke. The freedom that Grant Hill played with while at Duke certainly appealed to the 6'8" 204 lb Hood.
After narrowing his list down to Ohio State and Duke, Rodney chose to be a Blue Devil. On Wednesday, he officially moved in, and will be roommates with sophomore point guard Quinn Cook. Hood and Cook, a born salesman, talked throughout the recruiting process and have built a relationship. Hood, a good student in high school, has enrolled in classes in Psychology and Advertising during this second summer session at Duke.
Along with Duke rising seniors Mason Plumlee and Ryan Kelly, Rodney is one of the select college players invited by Nike to its prestigious LeBron James Skills Academy this weekend. The left-handed wing player shot the basketball very well in the opening session, impressing several NBA scouts with his mix of size, skill, and versatility.
In his first interivew since enrolling at Duke, Hood spoke exclusively with me about a variety of topics, including a NCAA Championship run, improving his body in this coming year, what he will bring to the Duke program, being a competitive teammate, and unpacking his bags.
We'll get into why you chose Duke in a second, but why don't we start off with your reasons for transferring?  Your dad had mentioned in an article that this wasn't a last-second decision, that you had thought about this for a few months. 
Yeah, it was just a situation where we had a coaching change and there were a lot of changes throughout the program, so I decided to look elsewhere. It was just a personal decision and that's what I decided to do.
What were your reasons for choosing Duke?
You know, it's just a high level of basketball. Coach K is evidently the best coach in basketball.  It also gets me out of my comfort zone. We are going to have a chance to compete for a National Championship.
I'd like to talk to you about that in a moment, but one of the things that I saw that you had mentioned that you liked in your meeting with Coach K was that he talked about specifics. What did he envision for you?
He just envisioned me being one of the best players in the country on one of the best teams and being able to play there.  He was very honest with me.  We watched tape and he was honest about my game.
He watched tape with or of you at Mississippi State?
Yes, and he told me what I needed to work on and, for me, there were just a lot of little things that I didn't know about myself and my game.
That's interesting. 
And so it was great. 
Out of curiosity, did he compare you to any players? I know that sometimes he does that. I remember, for instance, him talking with Kyle Singler about that.
 Well, we watched a little of Grant Hill's tape.
Well, you're around the same height.
Yeah, we're kinda the same build, but we're different kind of players. But the freedom that he gave Grant Hill back in the day, he said he would put me in those sort of situations.
That's also interesting.
Yeah.
Did you know any of the guys on the team beforehand? Guys like Quinn?
Oh, yeah, I've been on campus already since Wednesday. I room with Quinn and we talked throughout the whole recruiting process. I also talked a lot with Rasheed and Amile and all of those guys.
Well, they're all very nice.
Oh, yeah, definitely. 
What did Coach K say that he would like to work with you on in the next year?
More than anything, my body.
Your body?
Yeah, not just really adding weight, but adding a whole lot of strength. Just falling in love with being in shape.
Yeah, I think if you just got a little more developed in the upper body and keep working on your ball skills,  you'd be pretty unstoppable at this level.
Yeah, that's what we talked about. We talked about falling in love with being in shape. You know, if you can get into shape, you can do a lot more things and it just elevates your game..stuff like that. Oh, and obviously skill work, but more just about getting my body in shape.
Now for you is it more about strength or conditioning or, frankly, both?
Yeah, it's really both, really. You know, KD, Kevin Durant, he runs all of the time, and he's not the strongest guy, but he's effective because he's mobile and he runs. But you know, I have to add strength to be the type of player that I want to become. 
I've been watching you a lot in the last two days, and it looks like you make a conscious effort to try to get open. Yesterday, you shot the ball really well, but you're constantly moving without the ball here.
Yeah, yeah, a lot of it's just repetition, just staying in the gym.  Just focusing on getting better.
For fans who may not have seen you play at Mississippi State or in high school, what are you going to bring to the program? There are a lot of fans that are excited about you coming.
I'm a player that can play on both ends of the court. You know, gets out there on defense, and offensively I'm very versatile.  I can make plays, I can shoot the basketball, I can post-up.
You knocked down fifty three-pointers.
Yeah, I can do a lot of stuff. I'm just excited to get in there and try to win a National Championship. It's one of my goals.
As a lefty, what advantages do you have?
You know, there are a lot of advantages. Guys are not used to going against lefties. That's why Ginobili and guys like that, Zach Randolph, guys are not used to guarding them every single day. I think it gives you an advantage.
Also, as a shot-blocker, you're facing a lot of righties and you have a natural advantage of being able to block their shot with your left hand. 
Yeah, it's very easy to contest a right-hander's shot. 
What would you say is your go-to move, for fans who haven't seen you play?
I'd say my go-to move, well, I like to do a lot of jab series. That's basically my go-to move -- I like to jab.
Where do you like to shoot the ball? It seemed like yesterday it was, like a lot of players, dead center.
Well, pretty much everywhere, but mainly dead center in the middle of the court. I try to get open spaces.
Then today you tried to work on the wing and down along the baseline.
Yeah, I was trying to work on that.
In terms of strength and conditioning, what do you currently weigh and what are you hoping to do in terms of your body?
Well, right now, I'm 204. 
Are you 6'8" or about there?
Yeah, I'm 6'8." Definitely, I'm 6'8."
Well, what are you hoping to get to?
I want to get to about 212 at least of muscle. I'm not a guy that wants to get real bulky and I'm never going to be that type of guy, but as long as I keep getting strength, I'll be fine. 
You want to add that lean muscle.
Yes, absolutely.
Is there a guy you tried to model your game after, when you were growing up?
I love Penny.  Penny Hardaway. 
He's another 6'8," 6'9" guy that was skilled.
Yeah, I watched him play a lot and just tried to model my game after him. The way he makes plays and made his team better.
Do you think that you're a pretty good passer?
I am. I can make a lot of passes. I can see over the defense a lot. Just like in football, where guys, well, quarterbacks can see over the defense. I can help find the open man.  
Yeah, it's such an advantage if you can. Can you tell the audience a little bit about yourself? A little bit about your background. I know you're from Meridian and your dad played ball. 
Yeah, I'm from Mississippi, born and raised. I love it there, but I also love to have fun. I'm a regular kid. I'm not going to get in no trouble..on purpose. You know, nobody's perfect, but I just love to have fun. 
You're not going to be a knucklehead off the court, right?
Oh, no. 
What about your family?
Yeah, my mom and my dad both played ball, my brother and sister both played ball on the Division I level. My dad played pro overseas.
Are you the youngest?
Yeah, I'm the youngest, so it's good having that knowledge in front of you. 
It probably helps a lot, coming from a basketball family.  
It does. 
What are you hoping to accomplish at the skills academy?
Just getting better by playing against the best wing players and the best players in the country. Just getting better every single time you step on the court. 
Can you recap the visit to Duke?
It was mostly just basketball, really. You know, we talked basketball almost the entire time. We ate, we talked basketball. We played, we talked basketball. We talked basketball afterwards. That was pretty much it. (laughs) I liked it.
You mentioned before that you're looking to make a title run in 2014. You guys might be stacked. 
Yeah, definitely, we're going to be pretty good. You know, in that year, we're going to be pretty good. I'm just anxious, you know, the freshmen that are coming in now are going to develop and we've got some guys that will come in next year. 
It sounds like recruiting's going pretty well. 
That's what I hear. I think we're also going to be pretty versatile as far as defense and, well, offensively, too. It's going to be pretty exciting. 
What's your schedule for the rest of the summer?
I'm going to be at summer school at Duke. 
The second session?
Yeah, I may be at a couple of more camps, but I'm not sure yet.
Since you just mentioned it, defensively, what are you going to do for the program?
I'm just a guy that can get out there and guard your 1, 2, or 3, and at the college level, even a 4.  
That's impressive versatility on defense. 
Yeah, it is. 
On the AAU level, I always thought that you were a really good teammate.
Yeah, I just love to compete. I think I bring the best out of my teammates, you know, challenging them every single day and, well, they're challenging me too. 
It'll  be great in practice this year.
Yeah, it will.
What about your major? Have you thought about that at all?
No, not really. 
Well, it's still early for you.
I'm taking an advertising and  psychology class right now for summer.
I remember you were a good high school student. 
Yeah, I was. 
What are you interested in doing when you stop playing? Have you thought about that at all?
Well, I still want to be involved in basketball. 
Coaching or announcing?
I don't know about coaching.  There's a lot of personalities (laughs), but we'll see.
Did you have a favorite team growing up?
You mean NBA team?
Yeah.
No, not really. 
I didn't know, growing up in Mississippi, which direction you would be looking.
Yeah, I didn't really have a team.
One person had told my privately that they thought you were really disciplined growing up. Is that true?
Yeah, my high school coach really instilled in me discipline, you know, on and off the court. You know, doing the little things can help you go a long way. It's been paying off so far. I just got to keep focussing on doing the little things.
What do you like to do for fun off the court?
Play video games, card games, just regular card games. (laughs)
Have you had an opportunity to see any USA Basketball this weekend? Will you get to?
No, but I think we're going to go see them tomorrow. I'm very excited to see them.
You're obviously a very good shooter. How are you trying to develop that?
Just repetition. You know, as a shooter, I'm just always trying to add repetition. 
In one of the articles I read for preparation, one of your ex-teammates said you might be a one-and-done.
I never said that. 
It was your ex-teammate, Moultrie, who said it.
Oh, no, it's however long it takes to be ready. I never think of it that way. 
So, you're "unpacking your bags," so to speak?
Yeah, I am.
Thank you so much for doing this.
Oh, sure.