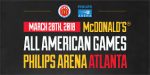 The McDonald's All American team was officially announced today and three Duke Blue Devils to be will participate in the prestigious contest.
Tre Jones, a 6-2, 180 pound point guard from St. Paul, Minnesota (Apple Valley) made the team.  He follows in the footsteps of his brother, Tyus Jones who played in the game and eventually helped lead Duke to a National Championship.
Cam Reddish, a 6-8, 215 pound SF from Norristown, PA (Westin School is on the roster as well.  Reddish recently scored 25 points in his teams close loss to IMG Academy.  He plays center on defense and basically his high school teams PG on offense out of necessity.
RJ Barrett, a 6-7 190 pound SF from Mississauga, Canada (Montverde Academy) also made the team.  Barrett and Reddish are generally considered to top ranked players in the nation in no particular order.  Barrett led Team Canada to a win over Team USA and plays for the top high school team in the nation.
Also on the team is Zion Williamson, who will be making his college decision this coming Saturday,  More on that and other Duke recruiting tidbits in the latest team and recruiting update for members
Duke is also still active with Moses Brown, a center prospect who blew up during the spring.  The McDonalds All American game will take place on March 28th, 2018 in Philips Arena, home of the Atlanta Hawks.
Tickets to the event will go on sale soon.
Read more about Duke Basketball Recruiting by taking advantage of our current special and joining Blue Devil Nation Premium.