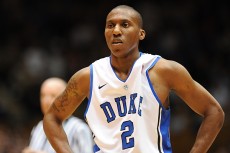 DURHAM, N.C. -- Duke senior Nolan Smith was named Associated Press First Team All-America on Monday. He is joined on the team by Jimmer Fredette (BYU), JuJuan Johnson (Purdue), Kemba Walker (Connecticut) and Jared Sullinger (Ohio State).
Smith, the 2011 ACC Player of the Year, earned 61 votes for his outstanding senior season in which he led Duke to an ACC Tournament title, the school's 12th 30-win season and a No. 1 seed in the NCAA Tournament. He is the fifth Duke player to be an All-American since 2000; two of them -- Jason Williams and J.J. Redick -- were selected twice.
"It's been a long process for me, just getting better each year and improving," Smith said. "That's something I hope to share with younger kids coming up. If you put the time in and get better and better and then by the time your senior year hits, you'll start to accomplish some of those individual goals, and that's something that I've done."
The Upper Marlboro, Md., native led the ACC in scoring (20.6 ppg.), 20-point games (21) and 30-point games (four). He also ranked among the league leaders in field goal percentage, free throw percentage, assists and minutes played.
Fredette was nearly a unanimous