Cameron Indoor Stadium will be a extra lively tonight but not because there is a game against Florida Atlantic.  Just a couple of hours prior to tip-off, the nations top center Jahlil Okafor and the top point guard Tyus Jones committed to play their college careers at Duke University.
Now that the anticipation is over and the two have become the package deal they said they would, Duke will turn its attention to superb wing Justise Winslow.
Okafor and Jones made their decisions on ESPNU, each from their high school.  The Blue Devils were fully involved throughout their recruitment with Coach Mike Kryzewski taking on a huge role.
In Okafor, Duke gets the post player it covets and he'll allow players on the roster to move to their more natural positions.  Okafor is a dominant post player with the ability to anchor a defense all by himself.
Jones is the ultimate team player and a point guard who found his Howard Pulley teammates in an effortless manner on the AAU circuit.
Jones and Okafor made a recent trip to Duke for their official visit and they also attended Countdown for Craziness the season before last.
While a lot of hype surrounded their recruitment, the two became a package deal as they said they would.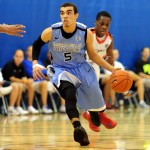 The Blue Devils were always in strong with the duo and they never let up their efforts to make them know how coveted they were.
It was quite simply, a huge day for Duke Basketball recruiting.