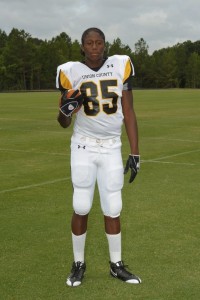 Desmond Floyd is a 6'4" 240 pound defensive end from Union, South Carolina. He recently attended Duke's summer football camp and has received a scholarship offer.
BDN: Can you describe some of your strengths and weaknesses as a player?
DF: My strength is definitely pass rushing, and my weakness is probably my strength right now.
BDN: What are some of the things you're working on for your senior year?
DF: I've been working on my pass rush moves, getting faster and stronger, and coming off the block better.
BDN: As you approach your college decision, what are you looking for in a school?
DF: Good academics first and then the community around the school. For football, the facilities and coaching staff are most important.
BDN: When are you planning to make your college decision?
DF: Whenever I'm comfortable with my choice. I was hoping to maybe decide before the season, but I want to be sure of my decision.
BDN: Which camps have you recently attended?
DF: Wake Forest and Duke in the past month.
BDN: Can you tell me a little bit about those camps?
DF: I got an offer at the Wake Forest camp. I didn't get to see much of the campuses or talk with the coaches at either camp. It was mostly just working and seeing how the coaching staff coaches.
BDN: Can you talk briefly about some of the ACC schools who are recruiting you?
DF: Wake Forest - their academics are very good and they have a winning reputation in football. Duke – has top of the line academics and a program on the rise. North Carolina State – I just got to see their stadium, I don't know much about them academically. Maryland has offered me, but I haven't visited.
BDN: Being from South Carolina, what have you heard from the in-state schools?
DF: I don't have an offer from Clemson. I have an offer from South Carolina and I really like their coaching staff and they have nice facilities.
BDN: Is there anything else that college football fans should know about you?
DF: Academics come first and I'm a hard worker.
BDN: Thanks very much for your time and good luck with your college decision.
DF: Thank you, sir.