[private]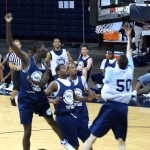 This week's theme is marquee match-ups: Ravenscroft versus Greensboro Day, Pine Crest versus American Heritage, and Gonzaga versus Bishop O'Connell. These games involved Duke commits Ryan Kelly and Tyler Thornton, and Duke recruiting target Brandon Knight; plus Florida commit Kenny Boynton and Carolina commit Kendall Marshall.
Ryan Kelly helped Ravenscroft improve to 8 – 0 with a 29 points, 15 rebounds, five assists, four blocked shots, and four steals performance against Greensboro Day. Ravenscroft won 56 - 42 and is headed toward a showdown with Christ School on December 20, 2008, in Columbia, SC. It will be exciting to see Ryan Kelly and Mason Plumlee go head-to-head.
Brandon Knight out dueled Kenny Boynton once again and Pine Crest defeated American Heritage 74 - 72 on Friday night. Knight outscored Boynton 35 - 32 in the individual match-up. Knight and Pine Crest have defeated Boynton and American Heritage in four of their last five meetings.
Tyler Thornton scored 23 points in the game but his Gonzaga team came up short, 65 – 60, against Kendall Marshall and Bishop O'Connell. Marshall scored 15 points for O'Connell. In his latest game, on Friday night, Thornton scored 16 points in a 66 - 55 Gonzaga victory over Mount St. Joseph.
Mason Plumlee was the leading scorer in three Christ School victories this week. He scored 20 points, grabbed 10 rebounds, blocked four shots, and tallied four assists, on Monday as Christ School defeated Carolina Day 77 – 41. On Tuesday, Mason scored 18 points in a 90 – 35 rout of Shannon Forest. The Greenies are now 9 – 0 on the season.  On Saturday, he scored 21 points in a 81 - 30 blowout of Providence Day.
Andre Dawkins continues to be impressive for Atlantic Shores Christian School. Last Saturday, in the ASCS Tip-Off Championship Game, Dawkins and Steven Pledger executed a pick and roll that resulted in Dawkins draining an 18 foot buzzer beating jump shot giving Atlantic Shores a 56 – 54 victory over Miller School. Miller School was paced by Marshawn Powell and Mychal Parker who both scored 19 points. Steven Pledger, who has signed a Letter of Intent to play for Coach Jeff Capel at Oklahoma, scored 34 points and was named the tournament MVP. Dawkins finished the game with 15 points and was named to the All-Tournament Team.
Josh Smith scored 21 points on Thursday as Kentwood went on the road and defeated Auburn Riverside 65 – 62 to improve to 2 – 1 on the year. Earlier in the week, Kentwood lost to Federal Way, the number one ranked team in Washington State, 61 – 53. Josh Smith scored 19 points in the loss. The 6'9" 280 Junior is averaging 24 points per game so far this season.  Smith is the third leading scorer in the South Puget Sound League 4A Conference.[/private]