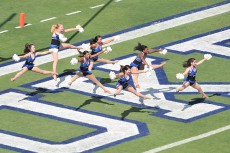 In this week's Monday Musings column I speak of the Blue Devils going to 3-2 on the gridiron entering the bye week.  And then there is basketball as the season is here once again.  We also share a couple of links with concerns to two big hoops recruits in Mitch McGary and Shabazz Muhammad and then talk of the character of the players in both basketball and football.
Duke Football goes into the bye week 3-2
The Blue Devils were quite resilient coming back 10 points down in the fourth quarter to defeat Florida International on the road.  The last few minutes of the game featured a forced fumble and recovery, followed by a six yard romp into the end zone.  The Blue Devils defense would then bend again, only to tighten up in the red zone where they took over on downs and allowed the offense to run out the clock.  Going into the bye week on a three game winning streak should help this young football team as they continue to gain confidence in their abilities.  If Duke played Richmond tomorrow, they'd win by three touchdowns.  Thankfully, Duke has opened up the offense since then and it is paying off.  Wins is what the program needs and Cutcliffe is starting to deliver them.  The remainder of the schedule is tough, but with a few breaks, maybe, just maybe ... okay, let's take it one game at a time.  For exclusive post game interviews, check out our coverage from Miami.
Basketball is upon us!
Hoops casts a huge shadow over the Duke Campus year round and in less than two weeks I will attend media day at Duke which opens the season for our full throttle coverage.  A few days after that, it's off to ACC Operation Basketball in Charlotte.  We got a glimpse of the Blue Devils early on during the Friendship Games, but we'll have to wait and see how Coach Krzyzewski has decided to use his team.  Duke in no way showed their hand on the trip and it's always fun to see what Coach comes up with in that he always uses his team's strengths to their benefit.
Countdown to Craziness
Tickets are sold out for this yearly event and if you're a Duke fan this is an experience that should be on your bucket list.  The evening is a celebration of the Duke Basketball program that features much more than play on the court.  The dunk contests are always fun, but the video skits are also a riot.  Then there are the introductions of each player to the roar of hoop-starved Duke fans and of course, Coach K addresses the Crazies.  It's a royal blue rush of an evening that is sure to leave you flushed with energy.  And a hint to those who don't have tickets, look for some released at the last moment, and most people outside seem to get in.  In short, come on out and you will probably get in.
Mitch McGary and Shabazz Muhammad
Here are two links, the first being a diary offering from Mitch McGary where he shares the latest on his recruitment.  After a read, you will realize that Duke is battling Michigan for his services.  But before many freak out, my suggestion is to let it play out.  Unfortunately, McGary addresses the rumor about a silent verbal to Duke.  Thanks to some irresponsible twitter types, this bad rumor spread like wildfire.  It's more of a testament to listen to people that have been around for a long time and have a track record.  While I'm at it, I hope fan bases realize they can hurt recruiting efforts with over the top contact to these young men.  And here is the latest interview from Shabazz Muhammad from my pals at a UCLA site.
Captains Ryan Kelly and Miles Plumlee
During last seasons untimely loss to Arizona, I spoke with Doreen Kelly about her son, Ryan.  She referred to Ryan as wine in that he gets better with age. Well, she is on to something for Kelly is looking like he's ready to make the leap to possibly being a star this season.  His work ethic and willingness to do what it takes for the team to win made him a perfect choice for captain.  And then there is Miles Plumlee, a senior poised to have a monster final season.  Plumlee will show off his physical maturity this season and I can see games where he will be the rock for a young team.  I'm excited and happy for both of these young men for earning the honor.  And I almost forgot, Miles senior day game will be the last game of the regular season verus North Carolina in Cameron.
True Blue Character
As most of you know, I cover the Duke beat both in basketball and football.  I can tell you from experience that the kids in both programs possess high character and that is something to be celebrated.   It's a whole lot easier to root your guys on when you know they are truly good young men.  This also speaks to the way both programs recruit, so if you're a young prospect that wants to come to Duke, you know what they're looking for.
Next up, Florida State
The Noles will roll into Wallace Wade Stadium in two weeks eager to put two early season losses behind them.  It's always a show when the big programs come to town and this game will be a good measuring stick for Duke.  With a week more to prepare, Duke could come up with a few new wrinkles and they will most certainly need them against this team.  But they also need a good turnout.  After winning three straight games, fans hanging on the fence or laying on the couch need to turnout.  This is a young team that played their hearts out lately and they deserve some noise.  Besides, it is the day after Countdown for Craziness, so why not make the trek to Durham for a Duke double header!