[private]What do you think about what happened two years ago at Wake Forest?
Heartbreaking.  We thought we had it in the bag.  As a freshman, I didn't think much of it because I knew I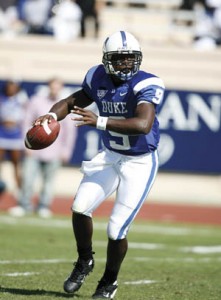 had three more years.  It probably hurt those seniors that year, but looking back on it - it hurt going down the stretch that season.
Do you consider Wake a rival?
I would think so.  Going back to the last two games we played against Wake Forest - losing by one point and losing by five ... I remember all that.
With the two bye weeks, Duke hadn't tasted a victory in a month going into the Vanderbilt game.  Was this on the team's minds or did you see any sign that the team could get back to their old way of thinking with concerns to confidence?
Not at all.  Coach Cut is not going to let you get back to your old ways.  The first thing he said was we are not going back to the old ways around here.  One thing he said was emphasizing how we came out of the tunnel against James Madison - believing we could win.  He told us to go back to that moment and we came out that same way against Vanderbilt.  He also told us to remember what it felt like to go back in with a victory.  We have some seniors stepping up and they want to go out with a bang,
Is the team thinking bowl at this point?
Not at all.  You know, coach always says it's a one game season and we focus on that team.
Wake has got off to a good start against Duke in the past.  Is there an emphasis on coming out of the gate quick this week?
It's not about just getting off to a good start, but staying hot the whole game.  We got off to a good start my freshman year, but we ended the game poorly.  We had to come back the next season.  I think consistency and execution will be the key in this game and the team which has the fewest mistakes will win.
You had a couple of receivers missing, did that effect the game plan versus Vanderbilt?
Not at all.  We expect that if one person goes down, that another steps up.  So, we didn't alter the game plan or anything like that.
You suffered a few sacks in the Vandy game.  Was that the line, the receivers routes ... a combination of things?
The line was doing what it had to do.  Me knowing my protection and knowing where I'm hot (apt to take hits) came in to play.  I moved out and I have to be accountable for that.  It was a learning experience because we haven't faced a team that blitzes that much.  I'm pretty sure teams will watch the film and incorporate all those things, but we watched films to and I know what's coming and that I will have to be accountable for those things if the protection breaks down.[/private]