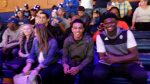 Tre Jones selected the Duke Blue Devils as his college destination.   The Minnesota native is the top rated point guard in his class having blown up on the shoe circuit in his senior season.
"Today, it's not about me. It's about my tomorrow. And my tomorrow will be at Duke University," said Jones just minutes ago.  He was flanked by his two brothers and his mom Debbie.
Having another Jones in Durham should excite the Duke fan base in that they are proven leaders and winners.  Jones, brother, Tyus helped lead the Blue Devils to their fifth national championship under Duke coach Mike Krzyzewski.
Tre Jones is considered to be more athletic than his brother and is known as an in your face defender.  Jones can flash down the lane and finish with the dunk to go with his adept passing skills.
'' There is a little bit of advantage just having seen them more in depth and how they handle a season.  With Tyus there I got to see it up close and personal and it was a fun year,'' said Jones earlier this AAU season when asked if his brother being at Duke helps their efforts.
When Jones was asked to describe his game, he stated, ''A leader.  I bring a lot of intensity on the defensive end and hope that carries over.''
More to come.