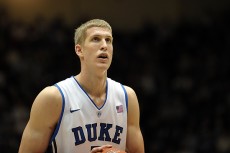 Before Duke Coach Mike Krzyzewski can map out how he will use his  2012-13 roster,  the dust has to clear on many looming decisions.  To mention that a lot is going on behind the scenes right now within the program is like being Captain Obvious.  The Blue Devils, like other schools, will meet with players individually where they'll be told what is expected of them next season and how they will be used in what many call exit interviews.
These meetings will at times allow players who are not happy with their projected roles to make a move and or transfer.  While transfers are rare, they are a part of the game and the rumor mill has been full of talk.  Now, I am not saying Duke is destined for transfers, only that one could happen and the public will  not know until GoDuke.com announces them in an official manner.
Already waiting in the wings could be a transfer into the program in Trey Zeigler, a player who is leaving Central Michigan.  Zeigler is visiting several schools including Pitt this week, but the Blue Devils reportedly feel he could help their team.  Zeigler has the ability to guard the 6-5 big guard types and would add some experience but we'll only know how this one turns out at the end of April or in early May for his decision will not be made until other things are settled.
It's worth noting that Krzyzewski and Duke have rarely accepted transfers but the ones which have joined the royal blue have been successful.  Roshown McCleod and Dahntay Jones certainly made their impact felt. 
The big key, at the moment, hinges on the decision of rising senior Mason Plumlee.  The question is will he join his eldest brother Miles by signing with an agent to achieve his goal of reaching the NBA or will he come back to Duke to play a year with his youngest brother, Marshall.
Should Mason head to the draft with an agent, it leaves a huge hole in the middle at Duke and that's when a Blue Devil recruiting target, Tony Parker's decision becomes oh-so important.  Duke has been recruiting Parker for a good long time and Krzyzewski has stayed steadfast and consistent during the process.  But Parker has been the reason for burgeoning gray hairs in many fans in that his comments are often inconsistent or hard to read.
Oddly, Parker is rumored to be more likely to come if Mason leaves, but it would make sense for him to want Mason around to learn from as a freshman and play beside.  But then there is the possibility that Duke might lose Parker and the middle of the three Plumlee brothers and that would suggest for some tough times in the paint in Durham.
Most Duke fans feel it should be a no brainer for Tony Parker in that Duke has a specific need for a player with his skill set, but if it were only that simple.  Regardless, Parker can all but guarantee himself going to one of the nation's elite programs and playing right away if he chooses Duke.
As for Plumlee, his decision is a little less clear for perceived results.  He has long been considered an NBA prospect and some feel when you are guaranteed a few million bucks you have to take it, but other factors are at play.  This year's draft is fast becoming loaded with prospects and can he get a team to guarantee he would be their pick  in the first round if he falls to them?
Should Plumlee return, he will anchor the post at Duke and pardon the pun, but be the big man on campus, likely being considered for many preseason honors and getting a few sleek magazine covers as the Blue Devils' best player.  On the other hand, who can ever blame a kid for taking the money if it is there for sure?  Personally, I do not feel that his return will hurt his stock for I just cannot see a player with his physical abilities regressing.
Plumlee has until April 10th per the NCAA to announce his decision to enter the draft, but he could actually say he is coming back and still change his mind by April 29th, which is the NBA deadline.  Plumlee has yet to make his decision but it will surely happen soon and Duke fans are sitting on pins and needles in anticipation.
Then the Blue Devils are in contention for the nation's top player in Shabazz Muhammad, who includes them alongside UCLA and Kentucky.  Duke has an opening for another one and done player but this will not be an easy one to close on and right now most feel UCLA and Kentucky are ahead of the Blue Devils in the process.  My understanding is that Duke has been and will remain in the process and who wouldn't remain in the chase for a player like Muhammad, who can shift the balance of power instantly?
Another player which would add a different skill set to the roster is Amile Jefferson, a sleek, but slender forward out of Philadelphia.  Jefferson is not the answer in the post for Duke but he is a player which can help in the block per his skill set.  Like Parker and Muhammad, his decision should come around April 11th and that will be a day when the Duke message boards will be non-stop buzzing.
The attraction to Jefferson is the fact he provides different options with his potential and he's a team player, which is always needed.  Jefferson is also a top-notch student.  N.C. State recruiting types are supremely confident that they are the favorites but we'll have to wait and see for Duke seems to be in as good a shape as anyone.
There is a lot of talk about the Duke program slipping out there as well, but if a piece or two fall into place or even more, then Duke is a national title contender and no matter what happens, they'll contend in the ACC.  We live in a time when talking heads can influence society with falsehoods and tainted perceptions and the Blue Devils are a victim of that now more than ever.
In the end, the Blue Devils always seem to push away the critics and force them to start fawning over the program again from the fact they win and do so as consistently as anyone.  Okay, they do so a lot more than most, but reading some of the preseason top 25 projected polls would have you think the sky is falling.
Make no mistake, Duke is a college basketball juggernaut and they won 27 games against a difficult schedule, so to write off them or any of their players would be a mistake.  But it is clear that Duke wants and needs to add to the mix and that is why the pending decisions are critical in many ways.
So strap yourself in for the next few weeks will be a wild ride and if you want more, join BDN Premium where we constantly update what we are hearing provided they are fact based or from consistent sources.