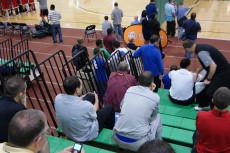 Day Two of the Nile EYBL Session II is in the books and it was a long one where the coaches were in the gym all day and night. It's hard to figure out where to start tonight in that my head is swimming from information overload. Let's start with Tyler Ennis who is still [private] on the radar and while he is listed as a PG, he shows off more shooting guard skills to me despite being just 6-3. I spoke with him after his game. And then there is Andrew Wiggins who if NBA rules allowed would go straight to the league. Of course Duke has interest but this will not be an easy get, so I would call that interest somewhat luke warm in that they know it would be quite the battle.
I was impressed with Wayne Selden (2014) today and he's going to be a good one, I secured a video chat with him. Duke has a lot of interest in him but it is too early for them to concentrate on that class which includes Theo Pinson. The interest is there for Pinson but they know he is a long ways from making his decision.
Boo Williams continued their slide and will likely not make it to the Peach Jam or the EYBL finals, dropping to 2-7 with a loss to Mokan. Al Freeman has not been impressive in the event which I said from day one and I have yet to see him use his potential in a good way. When his offense struggles he allows it to effect his whole game and while he had a good game tonight shooting the ball, his other stat totals were again, non existent. I don't think Boo uses him right. Anthony Barber is good, but not good enough to earn an offer at this point. He is a PG that cannot really pass that well and the chemistry with Freeman ia average at best. And Try Williams continues to regress with many questioning his work ethic.
Julius Randle improved his stock and that is hard to do when you are ranked 2nd in your class. His handle is nice for a big man and he dominated when he did take it to the paint. He told BDN he had so many triple teams he decided to take his game to the perimeter and it seems to be working. Yes Matt Jones is better and he told BDN he is now 6-5 but the same weight. I have vid interviews with both.
I spoke with ex ACC official Larry Rose for a good long time and what a chat we had. He is head of MEAC officials now. I laughed at him being ragged in Cameron back in the day.
I watched a bit of Jahlil Okafor and his game is about the same as it was a year ago in that he needs to be more aggressive. A ton of folks really pick my brain about Duke now and I found myself giving disinformation to a couple of the more obnoxious types:)
Semilore Ojeleye. Semi is pronounced Shimi. I sat with Coach for part of his game and he like him a lot as do the assistants. I was tipped off they thought he could be offer material on Friday and had a brief chat with him on video. Great kid. His game? Nice. Great stroke from 3, solid, strong finisher on dunks. Listed at 6-7, but said he is 6-6. And guess who he pulled for when he grew up but don't they all;(. Anyhow, love his game and want him in royal blue. Unique player with incredible background, smart, solid student -- the whole package.
Ish Wainright is a defender supreme who can guard almost anyone and wants all challenges. Coach wants to see more offense from him. He was a beast tonight and hit a three point shot at the buzzer and Team Takeover finally won and that meant we got to talk to him, yay. Yes, that was sarcasm in that his coaches are a trip an then some.
Coach was upset about the injury to Derrick Rose and spoke of the challenges in filling the Team USA roster. Of course. Dwight Howard is out too but all the studs are expected to play. He's been on the road non stop and came in late from Arkansas where he saw Austin Nichols score 35 points, grab 15 rebounds and swat 7 shots away in a single game. Yeah, he's good.
Okay, that's all I have got off the top of my head but I have yet to get to my notes. I will close it out tomorrow before taking that four hour ride back, so do not expect a whole lot on Sunday evening. However, the video interviews will balance well with Andrew and the many interviews he still has. [/private]