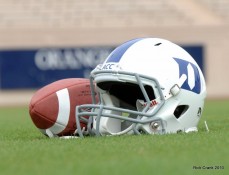 Welcome back to another season of Friday Night Lights where Blue Devil Nation keeps its readers updated on high school performances of future Blue Devils as well as Duke recruiting targets. There were a limited number of players in action this past Friday night with most teams first games coming next weekend.
With running back the obvious remaining need in the Class of 2015, there is no better place to start this season's Friday Night Lights coverage. Head Coach David Cutcliffe and his staff continue to pursue several Class of 2015 running back prospects including:
Nyheim Hines threw a 72 yard touchdown on a halfback pass, but Garner fell to Middle Creek 28-21. Hines rushed for 167 yards including a 14 yard touchdown in the game.
Reggie Gallaspy carried the ball 24 times for 246 yards and three touchdowns to lead Southern Guilford to a 42-7 victory over Eastern Guilford. Gallaspy has indicated he will make his college decision in September or October and he list his Top Five schools as Arkansas, Duke, Michigan State, North Carolina State and Vanderbilt.
Ruben Garnett rushed for 181 yards and four touchdowns, on 19 carries, as Aquinas routed Glenn Hills 41-6. Garnett's touchdown runs covered eight, six, 35 and three yards. He was named Star of the Game by the Augusta Chronicle.
Albert Funderburke rushed for 197 yards and a touchdown on 25 carries, but Sun Valley HS (Monroe, NC) fell to Hough 34-20. Funderburke's touchdown run covered 76 yards.
Charlotte Christian fell to Mallard Creek 28-21 in a meeting of two teams who won state championships last season. I was unable to find game statistics for Elijah Deveaux (2016 prospect) but this slideshow starts with a nice picture of him running the ball. Deveaux list his Top Five schools as Duke, Georgia Tech, North Carolina State, Pittsburgh and Wake Forest.
Incoming punter Austin Parker is a high school quarterback for the Mount Pleasant Tigers. He completed seven of 16 passes for 210 yards, but the Tigers fell to the Central Cabarrus Vikings 40-34. Parker threw two touchdown passes that covered 80 and 46 yards.
Wide receiver T.J. Rahming recorded five receptions for 175 yards in his season opener; however, his school, nationally ranked McEachern, lost to North Gwinnett 52-49. Two of Rahming's five catches were for touchdowns, which covered 74 and 35 yards.
Ringgold won their season opener 21-11 over Northwest Whitfield. Future Blue Devils DE Zach Morris plays for Ringgold.
Safety prospect Rashad Roundtree lost a heartbreaker in his season opener as North Augusta defeated Lakeside 12-10. Lakeside scored late to take a 10-9 lead but they failed to stop North Augusta who kicked a last second 38 yard field goal to secure the victory.
Sean Pollard (2016 OL) and the Pinecrest Patriots overcame a slow start to defeat Overhills 23-12. Pollard was set to announce his college destination last week before he changed his mind at the last minute and decided to push his announcement to next year. Duke is in solid shape with Pollard.
Be sure and check back next week as a full slate of games are scheduled for the future Blue Devils and Duke recruiting targets. Blue Devil Nation strives to be the go to site for Duke Blue Devils football coverage.