The Duke Blue Devils entertained elite prospect, Patrick Baldwin Jr., during yesterday's in over Virginia Tech in Cameron Indoor Stadium.
Baldwin is one of the best players in the Class of 2021 and he has long drawn the attention of Duke coach Mike Krzyzewski.
Now standing 6-10, Baldin is skilled beyond his years and smooth even when facing triple teams at the high school level Baldwin has become coach's dream.
The rising star has ties to Northwestern where his Dad was dubbed, the "Man of Steel." This, of course, has made him a major target for former Duke player and assistant coach Chris Collins.
As it turns out, his Pops, also named Pat, captained three Northwestern teams in the early nineties. He stood 6-1 and he met Parick's mom, Shawn, a volleyball star who was 6-2.
The result of their union is their son Patrick, one of the more versatile players in the country which has earned him a place with the nation's top tier prospects.
His Dad has gone on to coach UW-Milwaukee after stints at Loyola and Northwestern. So, there is some pull to stay with the family.
But the Baldwins know that playing under Mike Krzyzewski at Duke is a great opportunity, thus this weekend visit took place. And make no mistake about it, he is a major priority for the Blue Devils staff which feels he falls right in line with stretch fours past and more.
Growing up in a coach's family makes him an ideal fit for Duke. He is their type of prospect. He has a solid basketball I.Q. and works hard to better his skills while on his journey.
Another thing which could bode well for the Blue Devils is his friendship with Max Christie. Duke has long been on both these guys and wants them as part of the cornerstone for their next great class.
Duke has had tremendous success in getting players to the NBA without holding them back or trying to keep them in the program. This is another area that makes their offer a coveted one.
And it goes without saying that Patrick has been an early part of the USA Basketball program and the Blue Devils have the man who steadied the machine after it took a step back.
With the Northwestern lineage in the family, there is little doubt, Patrick, values education. But it is no secret that this young man will make his initial money playing basketball professionally.
Duke offers him the best of both worlds with hoops and education, but other schools are still trying to get in the picture before it is too late.
Kentucky and many others have kicked the wheels on Baldwin, but this one may come down to playing with family or in a familiar situation like Northwestern or Duke.
Baldwin has also visited North Carolina and Roy Williams has been up to see him. And of course, Marquette, Wisconsin and a bevy of other schools have offered.
Baldwin could make an impact no matter where he goes to school. But if his dream is to possibly play for a national title, Duke may in time be his choice.
Baldwin once visited the Duke Basketball Camp, so he has some familiarity with the campus and program. The staff surely showed off some of the nation's finest facilities during his weekend visit while making him aware that he is a major piece of the future should he come to Durham.
While Cameron may not have been its usual raucous self due to an early knockout punch of Virginia Tech yesterday, the Crazies did call the budding star over to sit with them, or to be technically correct, stand with them.
Baldwin, like other stellar prospects before him, caught Coach K's eyes early on. As good as he is, Baldwin is only scratching the surface of what he will become in college and one day, the NBA.
One thing that's clear is Krzyzewski and his staff desire to work with Baldwin and help him while being a part of his journey. Stay tuned for more on this developing story.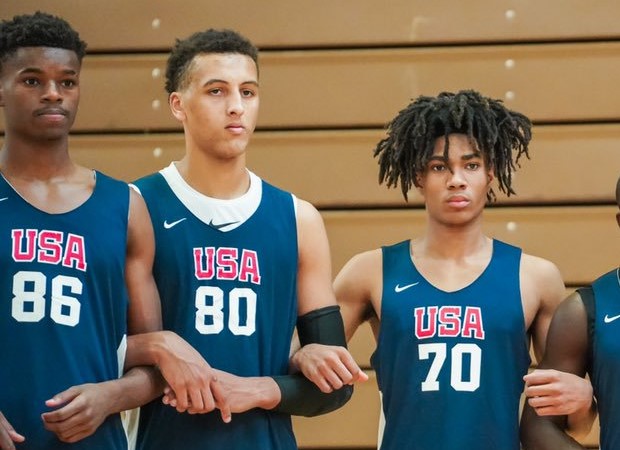 For more on recruiting, join Blue Devil Nation Premium during our one-year special. Follow Blue Devil Nation on twitter at https://twitter.com/BlueDevilNation