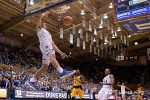 Here is the first edition of "10 Random Thoughts on Duke Basketball."  I will be covering various tidbits worth mentioning that will consist of little known facts and things to ponder.
Marvin Bagley III is only scratching the surface - What a phenomenal week for Marvin Bagley III.  He wins ACC Player of the Week and Rookie of the Week while setting various freshman records at Duke.  But he could be in high school for his final season.  What I am saying is he is young and learning and will realize more and more what he is capable of doing as the season wears on.
Duke is more than just Marvin Bagley III - Take a look at Wendell Carter Jr. for a second.  He is having a solid freshman season as are all of the starters.  It is his play and ability to help protect the lane and garner rebounds that helps Bagley to be great.
Duke is going to get a lot better soon - Okay, so you know they will have played 9 games in 20 days after they take on Indiana tomorrow night.  But have you considered that during this stretch there has been little to no practice time?  Once Mike Krzyzewski and his staff has time to break down the film from this run, Duke will make major adjustments and tweak what they are doing.  In short, you ain't see nothing yet.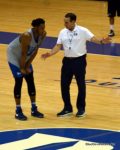 Run your own race - I have covered Duke basketball for many years.  In that time I have seen great players in time not have the success they would like in their freshman and sophomore seasons.  Heck, ask Nolan Smith about sticking with it after barely playing as a freshman.  Duke has some guys on the roster that may not fully blossom until their junior years, but if they stick with the system, they will become stars with key roles.
What we have learned to date -  You can never count this Duke team out.  Fans should look over their timelines to see how they reacted when Duke was down 17 to good teams.  Moving forward, they should know this team is talented and can wear their opponents down over the course of a whole game.  The confidence gained in these comeback wins will serve Duke well.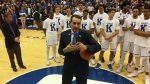 Special -  Mike Krzyzewski aka Coach K called his team special in the post game after the win over Florida.  Special can mean many things, but he has seen this group will not give up and wants to play together, learn and get better.  What he did not specifically mention is that these are all really good young men off the court as well and that he love teaching them.
Indiana is a trap game - The Hoosiers had one of the worst losses in their fabled history in their opening home loss to Indiana State of Larry Bird fame.  They lost to a good, ranked, Seton Hall team on the road.  But they have shown signs of improvement pushing their record to 4-2.  They are rested and playing in their super bowl tomorrow night.
Duke does not announce their injuries - I often see fans ask what is wrong with so and so or he is having a bad game or two,  It is not policy for the Blue Devils to announce their injuries and do not expect them to help their opponents scouting report by doing so.  Food for thought.
The Duke team will soon get a break but -  the coaches will be breaking down filming in between holiday recruiting events later this month.
That needed break will come - after Duke returns from Bloomington where they will face a good South Dakota team in CIS (Cameron Indoor Stadium) on December the 2nd (Saturday) and then St. Francis in a brutal 9:00 start this coming Tuesday.  Wait!  I am not finished.  The team will then go as far north in the ACC as possible for their league opener against Boston College on the 9th.  At that time comes a much-needed 11 day break.  Duke will then play Evansville on December the 20th in CIS to shake off the rust before another 10 day break when they will come back to take on Florida State at home with the students still on vacation break.  Duke will need their non student fans to be on the top of their game in the home ACC opener.
I hope you enjoyed my first edition of "10 Random Thoughts on Duke Basketball," and return for more.  Remember that we are doubling your membership to all new members of BDN Premium through the new year.  If you join for 1, 3, 6 or 12 months, we will double your membership time.  IOW, 2 years is just $100.00, or if you join for 6 months at $60.00 you get a full year.  By joining you help us spread the news on Duke Basketball on various platforms while getting some inside news.  For recent new members, you now have access to the message board, but it is a separate sign up which will then be approved.