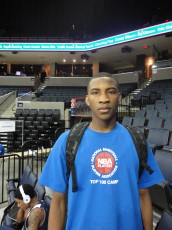 Here are couple of clips of Rasheed Sulaimon.  In the first clip, he ties the game up with a three point shot which put the game into overtime.  His team rallied from a 20 point deficit.
In the clip below, Sulaimon was dribbling out the clock and about to make a move.  You can see a surprised look on his face when his coach called a timeout.  The problem was is that the rules state there are no timeouts in overtime, so they turned the ball over.  You can see his coach walk to the ref and ask for time.  His team eneded up losing the game by a deuce after that play.
In the clip below, he had a blown assist but he then hustles back down court to tie up his man via on ball defense and he walked.
Stay tuned for the first entry in the Rasheed Sulaimon diary, a BDN exclusive, where he will update us until the end of his high school basketball season.