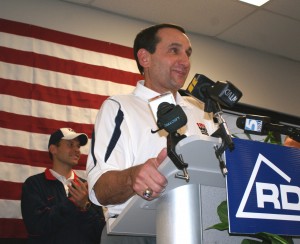 DURHAM, N.C. - Duke head coach Mike Krzyzewski, along with co-author Jamie K. Spatola, have added two additional local signings to book tour for THE GOLD STANDARD: Building a World-Class Team. Krzyzewski and Spatola will be at the Barnes & Noble (Friendly Center) in Greenboro, N.C. on Wednesday, May 20 and at Quail Ridge Books and Music in Raleigh, N.C. on Wednesday, June 10.
THE GOLD STANDARD: Building a World-Class Team (Business Plus; April 6, 2009; $25.99; Hardcover) is Coach K's guide to team building, illustrated with experiences from his three years coaching the team that would ultimately win Olympic gold. You'll see how he formed relationships with LeBron James, Kobe Bryant, Carmelo Anthony, Jason Kidd, Dwayne Wade, and the rest of Team USA's NBA stars and how they established a set of standards to guide their performance, both on and off the court.
THE GOLD STANDARD is divided into the key times and moments of Coach K's work with Team USA with each chapter dedicated to a particular lesson and insight into teambuilding.  Covering a wide range of issues applicable to leading any businesses, organization, or group, Krzyzewski discusses how he helped build Team USA by establishing standards, creating a common language, cultivating leadership, forming relationships, motivating and inspiring players, and by maintaining his perspective and charting his own progress as a leader.
Along the way, Coach K also discusses how he came to appreciate this formidable challenge and he reveals the secrets that led the 2008 U.S. Olympic team to victory. And in the end, you'll witness the rewards of team building-including the tremendous triumph people feel when they truly become part of something bigger than themselves.
"My proudest times as a coach are those when I recognize that a group of players has become a team, a whole that is truly greater than the sum of its parts," Krzyzewski writes. "From the summer of 2006 through the 2008 Summer Olympics in Beijing, I had the opportunity to work with a group whose parts were some of the most talented basketball players in the game.  And I had the privilege of being their coach as this amazing team came together to bring the gold medal back to the United States."
Wednesday, May 20
7:00 pm - 9:00 pm
Barnes & Noble
Friendly Center
3102 Northline Avenue
Greensboro, NC 27408
(336) 854-4200
Wednesday, June 10
7:30 pm - 9:00 pm
Quail Ridge Books & Music
3522 Wade Ave
Raleigh, NC 27607
(919) 828-1588