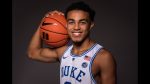 Duke head basketball coach Mike Krzyzewski confirmed today that incoming freshman Tre Jones and Cam Reddish will not play in their upcoming Canadian trip.
According to Krzyzewski, Reddish is nursing a groin injury while Jones is still not fully recovered from a hip injury.  It was also mentioned that both players were currently participating in some of the seven practices to date including drills.
Both players will be ready to go when practice starts in October per Krzyzewski and neither injury is expected to affect either player long term.