[private]CAMERON INDOOR STADIUM -The Duke Women's Basketball used a suffocating defense to defeat Michigan 60-45 which pushed their record to 6-1.  The Blue Devils held the Wolverines to just 29% shooting from the field where they completely controlled the paint.  In fact, Duke outrebounded their opponent 46-22.
"This was obviously a great game for us to get better. I really appreciated the way the team came out in the second half in particular and really found each other. They took apart the defense and did a really sharp job there. I like the balanced scoring, everyone was active in attacking, and to out-rebound them by 24 was significant. We have not been dominating on the boards. It's important for us to be dominating, to create that habit. We're still working on getting to the free throw line and playing more physically. No, I don't like the turnover number, but I understand the issues at hand right now and we'll move forward and learn from those things. I thought that there was great leadership on the floor at all different points, whether it was Abby [Waner] leading and having to play a whole lot of minutes out there, or Carrem Gay who did some great things, really leading us defensively.  We had solid senior leadership in this game," stated Coach McCallie.

Duke was led in scoring by Chante Black with 13 points and had by four total players in double figures.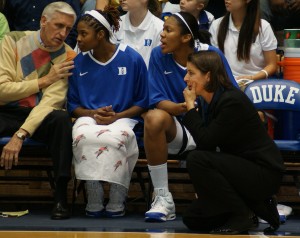 Black also had 6 blocks moving her to seventh place on the All Time ACC list.
"I watched film after games and I saw that there are times when I can be a little more aggressive calling for the ball. I just tried to be a little more active this game and try and get the defense to make mistakes. And my teammates did a good job looking for me and seeing that I was open," stated Gay when questioned about her being aggressive on the offensive end.

Joy Cheek and Abby Waner were the other two Dukies in double figure scoring with 12 and 11 points respectively.  Cheek had back to back three pointers in the contest while Waner tallied three total treys.
Speaking of treys, Michigan had trouble finding anything inside against the Duke defense.  A total of 30 of their 45 points came from beyond the three point stripe.
In somewhat of a statistical anomaly, Michigan made 20 steals, many due to a Duke season high 30 turnovers.
With PG's Jasmine Thomas and Chelsea Hopkins out, you could sense a need for consistency in play making.
Keturah Jackson ran the point and had four assists, but she missed the last ten minutes with a hip pointer.  While she is expected back for the Stanford game, the early season injuries on Blue Devil guards have been brutal.
The Blue Devils will now concentrate on the classroom during their exam break before facing their most formidable challenge of the young season in a home game against Stanford.   Their are still some seats available and the contest tips off on December 16th at 7:30 and will be televised by ESPN.[/private]