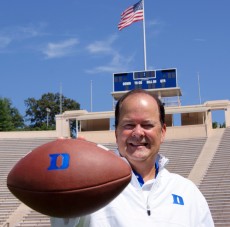 DURHAM, N.C. - Duke Head Football Coach David Cutcliffe has been named Atlantic Coast Conference Coach of the Year. Cutcliffe led Duke to a 6-6 regular season record, a three win jump from a season ago. The Blue Devils were picked last in their division in the pre-season and surpassed almost all expectations, becoming bowl-eligible for the first time since the 1994 season.
Cutcliffes' Blue Devils lost several starters in the pre-season and his team weathered further injuries during the year, yet still overcame the adversity to post the best season at Duke in 18 years. Cutcliffe recently signed a well-deserved contract extension at Duke, but he is not resting on his laurels. He's out on the recruiting trail this week as his team awaits a sure bowl invitation, expected to be issued as early as this coming Sunday.
"This honor is both humbling and rewarding because of the quality of the coaches in our conference," said Cutcliffe.  "Like all awards, the credit reaches far beyond one person and this is truly one for our entire program.  Ultimately, the acclaim goes to both our staff and the group of young men that came to practice every day with a desire to improve and prepare, gave their best effort on Saturdays, succeeded academically and served our community with pure selflessness.  While this was a season of progress for our program, many of the goals we laid out five years ago have not been reached and we'll continue our pursuit of excellence.
2012 ACC Coach of the Year Voting Results
David Cutcliffe, Duke (25)
Dabo Swinney, Clemson (7)
Jimbo Fisher, Florida State (5)
Larry Fedora, North Carolina (4)
Al Golden, Miami (4)
Tom O'Brien, NC State (1)
Blue Devil Nation congratulates Coach Cut on a successful season and a well-deserved award.