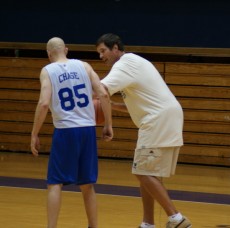 I hope that all of you are having a great Memorial Day weekend and that you are all fresh and ready for the coming coverage at Blue Devil Nation. We have had Andrew Slater in Oakland, California all weekend long covering Nike EYBL Session 4 and he has updated via his twitter site but the good stuff is on our members only message board. Slater has let our members know of all the latest on Duke Basketball Recruiting prospects and secured interviews with the likes of recent Sports Illustrated cover boy Jabari Parker, Julius Randle and many more, including some relative new names to many. We hope you consider joining to read those coming interviews while getting the very latest on each prospect and their thoughts on Duke. That said, we take a look ahead and toss out a few notes in our latest Monday Musings column.
Coach K Academy begins
The annual Coach K Academy begins this week where a bunch of 35 years and older men participate in the ultimate fantasy camp while raising money for the Emily K. Center and other Duke related charities. This is also a homecoming for ex players and many will be on hand to participate in the event which is fun for all. BDN will be interviewing some of the ex players, catching up with them on the latest happenings in their lives starting Wednesday, so you can look forward to that. We also have a member and occasional employee participating in the event and he'll share some of the happenings.
Football is right around the corner
Duke Football is about to embark on its fifth season under Coach David Cutcliffe and the chatter starts to increase in June. Recent publications ranked Duke as the 10th best team in the ACC but the Blue Devils hope that all come full circle this season and they can surprise a few teams on a very demanding schedule. BDN analyst Partick Cacchio and myself will start to bring you more and more coverage leading right up until kickoff in home opener against FIU, a team that is loaded and coming off another bowl season. Make no mistake, the opener is tough and pretty much a must win game for the Blue Devils.
Other Duke Athletes earning honors
While the men's LAX team fell short of playing for the national title today, they had a great season and nothing should take away from that. Duke athletics has become very competitive in many sports. Duke junior Lindy Duncan was named the winner of the Ping National Player of the Year in women's tennis, so congrats to her on a fine season. Kim Wenger and Emma Ham earned All Americans honors as well for their work with the Duke Womens' LAX team.
More recruiting
The warm months means BDN Premium will bring you our usual broad range of coverage during all the major recruiting events.  We  covered the Nike EYBL this past weekend and will take in Pango's which is another star-studded event this weekend. BDN sends our staff to events to give you in person scouting reports and coverage with the focus on the prospects you want to hear from. Neither stringers nor national types, but actual staff members who concentrate on the news you covet represent the Nation giving you a lot of bang for your buck as a subscriber. And in June our coverage will continue with the NBAPA Top 100 Camp and a few more surprised sure to please. The off season is one of the busiest times of year around here, so if you like recruiting and desire up to the minute information join BDN Premium for a month and check us out for yourself. Or go ahead and join for a year which is the best value.
Props to Vets
Many have served in the military for their country and many have fought for the freedom of all who live in this country. I once participated in a march in the United Kingdom celebrating the fallen and there are more than you will ever know who sacrificed their all. Vets are often under appreciated, so if you know one take some time out of your holiday fun and wish them well. I am proud to have served my country straight out of school and I would do it again for the many are always more important than myself. War is a horrible thing but we will always need those who are willing to defend our rights and continue to make America the best country to live in.
Changes are coming
BDN will unveil a facelift down the road and we are at work on the process. We'll also be adding new features and some new blood. We are excited about serving the entire Blue Devil Nation for years to come. Thanks for the continued support and I promise next weeks Monday Musings will return to the information that you have come to love.