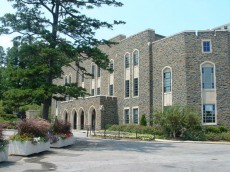 DURHAM, N.C. – The Duke men's basketball team officially opens the 2012-13 season on Friday, Oct. 19 with the fourth annual Countdown to Craziness. Tickets, ranging from $20-$65, go on sale at www.GoDuke.com/tickets beginning at 8:30 am on Tuesday, Oct. 2.
In addition, single game tickets for contests against Winston-Salem State (Nov. 1), Cornell (Dec. 19), Elon (Dec. 20) and Santa Clara (Dec. 29) will also go on sale on Tuesday.
Head coach Mike Krzyzewski, the winningest coach in NCAA history, returns to the sidelines for his 33rd season guiding the Blue Devil program. He has amassed 927 wins, including 854 victories at Duke, with four NCAA Championships and 13 Atlantic Coast Conference titles during his legendary coaching career.
The 2012-13 Blue Devils return 10 letterwinners from a year ago and will be led by the senior trio of Seth Curry, Ryan Kelly and Mason Plumlee. Curry and Plumlee were third team All-ACC selections last season, while Kelly was named MVP of the Maui Invitational.
Curry, one of the top long-range shooters in the country, has 38 double-figure scoring games at Duke. He is Duke's top returning scorer after averaging 13.2 points, 2.6 rebounds and 2.4 assists per game last season.
Kelly is coming off a breakout season in which he registered 11.8 points (18 double figures scoring games) and 5.4 rebounds per game. He also shot a team-high 40.8 percent (40-of-98) from three-point range.
Plumlee is one of the top returning post players in the country after averaging 11.1 points, 9.2 rebounds and 1.6 blocks per game as a junior. He recorded 12 double-doubles and set a school record with 60 dunks a year ago. Plumlee was also named a first team CoSIDA Academic All-America in 2012.
Each member of the trio is closing in on 1,000 career points at Duke. Curry (782), Plumlee (769) and Kelly (653) could each reach the 1,000-point plateau in 2012-13. Duke is tied for third in NCAA history with 60 career 1,000-point scorers.