Duke hosted two prospects over the weekend and turned them into commitments before they left.  One of those commitments was talented front liner Josh Hairston.  "It feels great to be a Blue Devil,"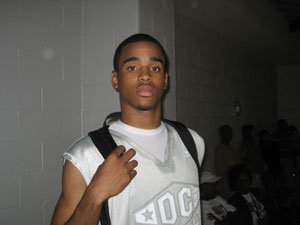 said Hairston.  He continued, "I've been down here a couple of times and I feel comfortable and excited about my decision to become a Blue Devil."
[private] Duke fans think it's great that Hairston is a Blue Devil too.  In fact, many were caught off guard when both Thornton and Hairston announced their decisions yesterday afternoon.  Of course, you as members saw this coming from my comments, but it always feels better when the decision is official.
"I told Coach K around three or four o'clock.  I was talking to him individually and told him of my decision," said Hairston.  "My family was real happy about it.  My Mom and Dad were real happy and my sister was too.  This is where they wanted me to go, so I'm close to them and it's a good thing."
As I continued the talk with Hairston, you could hear some others in the background.  "I'm in the room with Andre, Tyler, Mason and Elliot," said Hairston.  I then asked if Thornton and his decision was based on playing with one another and if they talked it over.  "Yes sir, we did talk.  I've played with Andre and Tyler and this was the place we wanted to be."
Hairtson said that he and the rest of the players gathered together around 11:00 for lunch and then played some pick up games.  They went to the football game in the second half before they returned and relaxed in the lounge.  "After that, Tyler and me made our decisions," said Hairston.  "I am glad it's over because I can now concentrate on my high schools season."
When asked what the best part of the visit was, he responded, "All of it was good, talking to the players, talking to Coach K ... that was probably the best part of the visit, but I had a good time doing everything."
Josh admitted that it was a little tired and that he would return home with his family sometime tomorrow.  Tired or not, he was probably headed out to hang out with his new friends and future teammates.[/private]