Much like the Duke Men's team, the Duke Women are losing out the 2009 season with a very challenging schedule.  Coach P and Duke righted the ship versus Clemson after a bitter defeat to the hands of arch rival UNC.  But tonight they face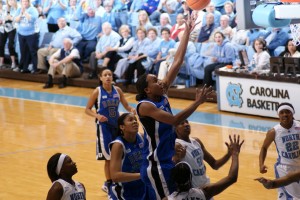 one of the traditional powers in Tennessee.  Duke will travel to Knoxville for a "Big Monday" game with the Vols, one which will be played in front of a national audience on ESPN 2.  The Duke Women will wear blue and pink uniforms to honor Kay Yow and breast cancer awareness.  Tonight's game will further prepare the Blue Devils for the upcoming post season and they have an opportunity to compete against the best.  Be sure to tune in and support the Duke Women's team as they embark on a brutal stretch run to close the season.
Game note provided by Duke Sports Information -
No. 4 Duke Travels To No. 15 Tennessee For Big Monday On ESPN2...
     In its second straight "Big Monday" game on ESPN2, the fourth-ranked Duke women's basketball team (20-3, 8-2 ACC) will travel to Knoxville, Tenn., on Monday, Feb. 16 for a 7:30 p.m., contest against 15th-ranked Tennessee (18-6, 7-3 SEC) in the Thompson-Boling Arena and Assembly Center.
     The game will be aired live on ESPN2 with Pam Ward (PXP), Carolyn Peck (Color) and Rebecca Lobo (Color) calling the action.  Fans can also hear the Blue Devils live on the radio on WDNC AM 620 with Steve Barnes (PXP) and Morgan Patrick (Color) on the air.
     Monday's game is Tennessee's "Pink Zone" game and the Blue Devils will wear blue and pink uniforms for the first time.  The Blue Devils are in a stretch where they are playing four ranked opponents in six games and three out of four road contests.  In the rankings, Duke is listed No. 4 in the Associated Press and No. 10 in the USA Today/ESPN Coaches Polls, while Tennessee is No. 15 and No. 18, respectively.
Media Info
What: Duke at Tennessee
Date:  February 16, 2009
Location: Knoxville, Tenn.
Venue: Thompson-Boling Arena (21,678)
Tipoff:  7:30 p.m.
Radio:  WDNC 620 AM
Radio Talent:  Steve Barnes (PXP),             Morgan Patrick (Color)
TV:  ESPN2
TV Talent:  Pam Ward (PXP), Carolyn Peck (Color), Rebecca Lobo (Sideline)
Livestats:  www.GoDuke.com
Noting Duke...
       Chante Black is the only player in the ACC to score double-figures in all of her team's games ... 10-of-12 Duke players have hit at least one three-pointer ... seven different Duke players have led the team in scoring on the year ... the Blue Devils have won 56 out of their last 60 home ACC regular season contests ... senior Carrem Gay leads Duke with 11 charges taken on the season and 29 for her career ... Duke holds a 840-463 points in the paint advantage on the year.
A Look At Tennessee...
     Tennessee enters the contest with an 18-6 overall and 7-3 record in the Southeastern Conference (SEC).  The Lady Vols have been led by Shekinn Stricklen (13.2 points, 6.0 rebounds, 24 treys), Angie Bjorklund (12.0 points, 2.8 rebounds, 40 treys), Glory Johnson (11.8 points, 7.7 rebounds) and Alex Fuller (7.7 points, 6.1 rebounds).
     So far this year, Tennessee has registered an 11-1 record at home with the lone loss coming against Virginia, who is also in the ACC.
The Series With Tennessee...
     Duke and Tennessee enter Monday with a 5-5 series record, but Duke has won three out of the last four meetings. The first five contests between the Blue Devils and Lady Vols were all at neutral sites prior to the two schools starting a home and home series in 2004.  This year's contest will mark an end of the regular season series for right now.
     Since the series began in 2004, the home team has won only one of the five contests, which was the Blue Devils in 2006.  Duke has notched a 2-0 record all-time in Knoxville, Tenn., winning in 2004 and 2007.
     The first five contests that were at neutral sites were --   Dec. 6, 1998, in the Disney Honda Elite Four as Tennessee won 74-60; on March 22, 1999, in the NCAA Tournament Elite Eight as Duke won 69-63; on Dec. 27, 2001, in the ACC/SEC Shootout as Tennessee won 89-68; on Nov. 24, 2002, in the Jimmy V Women's Basketball Classic as Duke won 76-55 and on Apr. 6, 2003, in the NCAA Final Four as Tennessee won 66-56 in Atlanta, Ga.
     Duke Head Coach Joanne P. McCallie owns a 1-2 overall record against Tennessee.  Last year in her first year with the Blue Devils, Coach P fell, 67-64.  In 2005, her Michigan State team lost, 83-55, in the Paradise Jam to the Lady Vols.  In her first meeting, McCallie's Michigan State team upset third-ranked Tennessee, 68-64, in the NCAA Final Four.
Blue Devils Look To Continue Streak At Thompson-Boling Arena...
       Duke has won its only two contests against Tennessee in the Thompson-Boling Arena in 2004 and 2007.  If the Blue Devils win on Monday, they will become only the third program to ever win three straight games at the Thompson-Boling Arena -- Texas (1983-84, '85-86 and '87-88) and Louisiana Tech (1981-82, '83-84 and '85-86).
     In the Blue Devils two victories at Tennessee, the margin of victory has been by a total of six points -- 59-57 in 2004 and 74-70 in 2007.  In the last game in Knoxville, Duke got off to an excellent 19-0 start and held the Lady Vols without a field goal until the 14:10 mark.  The Blue Devils held a 38-27 lead at the half and ended up winning 74-70.
Storylines/Other Blue Devil Notes...
     * Both Tennessee and Duke each had two members on the 2007 U19 World Championship team that picked up a gold medal in Bratislava, Slovakia. Jasmine Thomas and Krystal Thomas from Duke and Vicki Baugh and Angie Bjorklund from Tennessee each led the squad to a perfect 9-0 mark and a gold medal.
     * The Blue Devils own an 8-3 overall record in road and neutral games this season.  Two of the losses came at Florida State and North Carolina.
     * Duke freshman Shay Selby and Tennessee freshman Glory Johnson each played on the Blue Team during the 2007 USA Basketball Developmental Festival.  The squad notched a 2-3 record as both Selby and Johnson started four games each.  Johnson averaged 11.6 points and Selby averaged 10.6.
     * Sophomore Jasmine Thomas tied a career high with six assists against Clemson in the last game and her six assists was a season high.
     * Senior Abby Waner has hit two or more three-pointers in six out of the last seven games.
     * Jasmine Thomas is averaging 12.0 points, 3.2 assists, 2.7 rebounds and 2.2 steals over the last six games.  She has registered double-digit scoring in four of the six games, including matching a career high with 22 points at Virginia.  She hit a career-high 10 field goals in the victory.
     * Joy Cheek's father, Boris, officiated his second NFL Pro Bowl in Hawaii recently.
     *  In the last game, sophomore Krystal Thomas came off the bench to register 16 points, nine rebounds and three blocks in 19 minutes.  She hit a career-high eight free throws and attempted a career-high 11.
     *  Over the last three games, Joy Cheek has averaged only 5.7 points and 4.3 rebounds, while hitting only 26.1 percent of her field goals (6-of-23).
     * Duke owns a 93-11 record in ACC regular season action since the 2001-02 campaign.
     * Duke registered a season-high 50.8 percent shooting at Virginia on Feb. 5, which marked the fourth time under Coach P the Blue Devils have shot over 50.0 percent from the field in two years (2nd this season).
     * If Chante Black keeps on her current average of 8.7 rebounds a contest, she could become only the third player in ACC history to notch over 1,300 points, 1,000 rebounds and 200 blocks.  Black currently owns 1,322 points, 916 rebounds and 243 blocks.  Only UNC's Dawn Royster and Clemson's Peggy Caple have accomplished these types of numbers.
     *  The 29.3 percent shooting at North Carolina was the second-worst field goal percentage of the season and only the second time the Blue Devils have shot under 30.0 percent this year (Hartford - 26.6).
     * Sophomore Karima Christmas is averaging 10.3 points, 4.8 rebounds, 1.8 steals and0.8 assists in ACC action.  She has hit 55.7 percent of her field goals, which ranks second in the ACC.
     *  Since kicking off ACC play, Duke's bench players have hit 13-of-30 three-pointers for a 43.3 percentage.  Seven different Blue Devils have hit treys in those games -- Jackson, Gay, Cheek, Scheer, Selby, Mitchell and Christmas.
     * With Karima Christmas scoring 21 points against Miami on Jan. 9, Duke has now registered four different players with 20+ points in a game this season.
     *  WithDuke's win over No. 3 Stanford on Dec. 16, Coach P won her third contest against a top-five ranked team in just her second season with the Blue Devils.  McCallie has notched victories against Stanford while the head coach at Maine, Michigan State and Duke.
     *  Duke has five different players who have blocked 10 or more shots this season.
Christmas Recovering From Concussion...
     Duke sophomore KarimaChristmas suffered a concussion in the second half of the North Carolina contest on Feb. 9.  She passed her IMPACT concussion test on Friday, Feb. 13 but was not cleared for contact and did not play against Clemson.
     She is expected to return to full contact practice on Sunday, Feb. 15 and will be a game-time decision at Tennessee.
     Over the last nine games, Christmas has averaged 10.3 points, 4.8 rebounds, 1.8 steals and hit 55.7 percent of her field goals.
     She registered 21 points against Miami, 17 at N.C. State and 18 points at Virginia during that stretch.
Waner Nets School Record...
     With her three-pointer made at the 14:24 mark of the first half against Clemson, senior Abby Waner became Duke's all-time leader in three-point field goals made.
     She now owns 204 treys breaking Georgia Schweitzer's mark of 202, who played for Duke from 1998-2001.  Waner also moved into 14th place on the ACC career three-pointers made list.
Duke Players Vs. Tennessee...
       In three games against Tennessee, senior Abby Waner has averaged 14.0 points, 3.7 rebounds and 4.0 assists, while hit 9-of-18 three-pointers.  In one of her best performances of her career, she  scored 21 points on 5-of-5 shooting from long range in the first half in 2007 at Tennessee.  She finished with 24 points and six treys.
     Over the last two games against the Lady Vols, Chante Black has averaged 11.5 points, 3.5 rebounds and 1.5 steals.  She has hit 11-of-17 field goals in those games for a 64.7 percentage.
     Last year as a freshman, Jasmine Thomas notched 13 points, three steals and one rebound in 30 minutes against the Lady Vols.  She hit 3-of-4 from downtown and 5-of-10 from the field.