[private]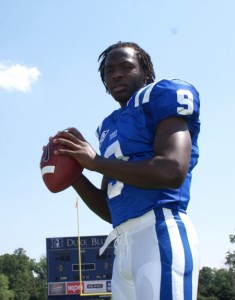 Who is your biggest fan or the one who encourages you the most during your career?
My Momma! She's my biggest fan. So I have to give a shout out to my Mother. My big brother too. He's kind of like my idol. My brother is nine years older than me and everything he's done in sports, I'd like to follow.
What was it that you liked about Duke when making your collegiate choice?
Duke is somewhere you can be comfortable at. You want to be somewhere where somebody wants you. I wanted to contribute right away and there is a family atmosphere here amongst the coaches.
Some in the media are saying Zack Asack is pushing you in practice. How do you feel about that? Does it make you a better player or do you just try to be the best Thad can be?
I don't like to read the media, but I'm glad he is. That's the type of thing you want. God forbid anything happen, but you would want someone behind you that can lead this team if something was to happen to me. So, it's a good thing, it makes me a better player making me compete everyday. I wouldn't have it no other way.
What do you think of Coach Cutcliffe so far?
Coach Cutcliffe is a great man! A guy that's going to push you to your limit. He wants the best out of you everyday and will not let you settle for less. That's the type of man you want around.
How about Coach Roper the OC?
Coach Roper is a fun guy. He stays on you! He's a good teacher.
I noticed during the opening day with the media that your body looked a little different than last season ...
They brought in Coach Durfey as the strength and conditioning coach. He has a good weight program and works us hard. If you come into our locker room you are there to be in pursuit of excellence, so if you are not ready to work, well ... It took a lot of hard work, plus the challenge that Coach told us he wanted us to drop weight and get to a certain level of body fat.
Do you have a different gel going into this season than last year? What's your general feel?
More mature. Confident in what you can do. This is my third offense in three years, but being a leader you have to adjust. It feels kind of good in that you have a lot of players around you who have that game experience.
Tell me a little bit about being a leader for this season's team ...
I'm not a real vocal leader, but I try to show it through my actions. You do everything to the best of your abilities and let the guys see your working hard and they will follow.
I assume you have a good relationship with Eron Riley. Have you two developed ...
Definitely! Since me and Eron have been connecting with each other ... sometimes the two of us will come out here and throw some balls together trying to get our timing down. Just going to his house and playing games and hanging ... it's a relationship we are all in on here.
What are your goals for the coming season? Any personal goals?
No personal goals, just a team goal. Every time you hear us shout it will be "We are Duke." We're going to take it one game at a time and do whatever it takes to fill up that stadium out there. (interview on practice field)
Tough question here ... In the recent past Duke hasn't fared well at home. You have four consecutive to open the season starting with James Madison. What will you do to turn it around?
People want to see you win. If we go out there and get that first "W," we know they'll want to come back to see you. But they will want to see if we can repeat the success as well. If you give the fans what they want, you definitely are going to get that support. You've got to earn it.
What is Thad's message to Duke fans going into Saturday evening's opener with a tough JMU team?
We hope to see you there. We're going to go out there and give it our all and try to give them a show. Our guys will always come out and give it our best and no matter the results we'll come back hard in our pursuit of excellence. People say that winning isn't everything, but actually it is and we want to get a win.[/private]